OTBI and BI Training in Bangalore
IQ Stream Technologies is one of the top OTBI and BI structured query language training institutes in Bangalore with highly experienced and skilled trainers. IQ Stream Technologies Bangalore also offers placement assistance for students who enrolled in Advanced Oracle Fusion certification Training Courses. We offer advanced OTBI learning experiences and tools for better learning, understanding and experience.
Expert OTBI and BI Training Institute
Become and Expert in OTBI and BI with IQ Stream Technologies' advanced BI learning programmes. Main highlights of our Oracle Server, OTBI and BI Training in Bangalore (BTM Layout) include BI Learning Modules. IQ Stream Technologies offer beginner, intermediate and advanced lessons for you to become an expert in the area.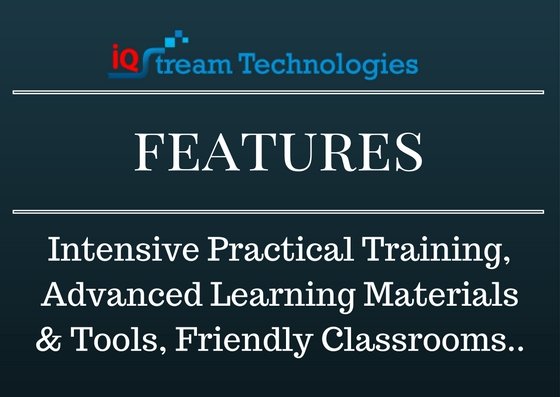 OTBI Training Location at BTM Layout:
IQ Stream Technologies Microsoft SQL Training Institute Location: BTM Layout, Bangalore
Mobile : +91 9620196773, +91 8884684156
Landline: +91 80 42073645​
Email: info@iqstreamtech.com
Address: #3, 8/2 Anugraha Complex, 1st E Cross,
20th Main, Maruti Nagar Main Road,
BTM Layout 1st Stage, Bangalore - 560029
Nearby Locations: BTM Layout, Jayanagar, JP Nagar, Koramangala, HSR Layout, Bommanahalli
Request OTBI and BI Training Online Demo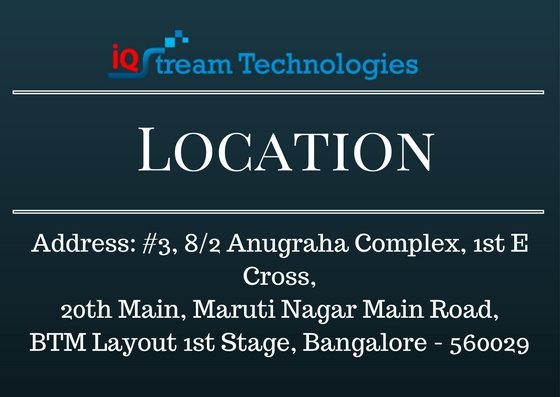 Course Overview:
| | |
| --- | --- |
| Course Name | SQL Training |
| Venue | IQ Stream Technologies |
| Official URL | SQL Training |
| Demo Classes | On Demand |
| Training Methodology: | 25% Theory & 75% Practical |
| Course Duration | 40-45 Hours |
| Class Availability | Weekdays & Weekends |
| Demo Training | Email ID : info@iqstreamtech.com |
Highlights of Our SQL Training in Bangalore
- Intensive Practical Training
- Advanced Learning Materials & Tools
- Friendly Classrooms
- Practical Guidance
- Advanced Lab Facility
- Placement Oriented
- Expert and Experienced Trainers
Other Related Courses:
iOS Developer
Android Developer
Datascience Training
Python Training
OTBI and BI Training Objectives:
Provides an overview of SQL Server Management Studio and Transact-SQL language
Helps you in mastering simple and complex queries for retrieving data
Shows you how to calculate information across result sets using aggregate queries
Helps you in understanding different Views
Ensure the integrity of multiple, related database updates by using transactions
Teaches you how to apply views to break down problems and enhance security
OTBI and BI Training Modules: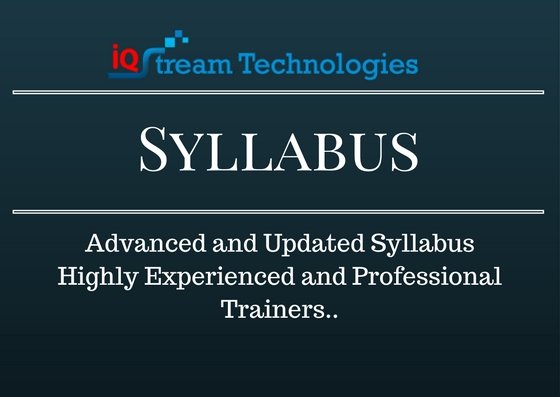 Learn more about our OTBI and BI training modules and syllabus below;
Part1 - OTBI Report (Analysis and Dashboards)
1) Introduction
2) Introduction to OTBI
3) Working with Analysis
4) Hierarchy Colum Approach in Analysis
5) Format Analysis with Different Approach
6) Multiple Subject Area to Retrieve data
7) Create Analysis through SQL Statement(Direct Data Base Query)
8) Filtering Data for Analysis
9) Advance Visualization in analysis
10) Showing Result with Pivot Tables
11) Working with Additional Views in Analysis
12) Creating Oracle Business Intelligence Dashboards
13) Configuring Oracle Business Intelligence Dashboards
14) Creating Dashboard prompts and variables
15) Scorecards and Key Performance Indicators
16) Visual Analyzer and Data Mashup
17) Working with BI Content in Smart View
18) Over view of Oracle Business Intelligence Mobile App Designer
19) Using Oracle Business Intelligence Delivers like Agents
20) Administering the presentation Catalog
21) Direct Database Aalysis
22) Expression
Exercise
1) Create Analysis with Single Subject Area with normal columns
2) Create Analysis with Hierarchy Column and show the result with pivot table
3) Create Analysis with Multiple sort options
4) Create analysis with Custom error message on No-Data Case
5) Create Analysis with Style options, copy and Past style to another columns
6) Create Analysis with repeat values highlights
7) Show the result for Fact Columns with separator and Date column with different Format
8) Create Analysis with Conditional formatting
9) Create Analysis with Import analysis properties
10) Create Analysis with Drill option in header and value level
11) Create Analysis with Action Link to Another analysis
12) Create Analysis with Multiple Subject Area with dimensions Column
13) Create Analysis with Multiple Subject Area with Fact Columns
14) Format column in Hierarchy column level
15) Create Analysis with Format Container
16) Show analysis result with interactions behavior options
17) Create Analysis with inline Filter and save as Named Filter
18) Create Filter in Global Header
19) Show the View editor in Results Tabs
20) Many to One relations in Analysis
Part2 - BI Reports
Contents:
1) Introduction
2) Introduction to Oracle BI Publisher 12c
3) BI Publisher
4) Getting started with BI Publisher
5) Using Data Model Editor
6) Bursting through Mail and FTP
7) Working with Layout Editor (XPT)
8) Using Template Builder to Create RTF Templates
9) Administration and Security
10) Scheduling and Bursting Reports
11) Integrating BI Publisher with Oracle BI Edition
12) Creating Data Model with other Data Source
13) Customize Standard Reports with customizations
14) Performing Translations
15) Excel and Other Layouts
Pruning Branches

SQL Training Reviews
IQ Stream Technologies
Rated

5

/5 based on

20

reviews