DotNet (.Net) Training in Bangalore
IQ Stream Technologies is one of the top Microsoft .Net (Dot Net) course training institutes in Bangalore with highly experienced and skilled trainers. IQ Stream Technologies Bangalore also offers placement assistance for students who enrolled in Advanced Microsoft .Net Training Courses. We offer advanced ASP.Net (ASP Dotnet) classes, SQL, C# training, ADO.Net, dotnet online training (dot net 4.6) learning experiences and tools for better learning, understanding and experience. We are the experts in providing high quality Microsoft DotNet Certification Training in Bengaluru BTM area with dedicated and specially designed classrooms and highly trained tutors. IQST Bangalore will introduce the students to Web Service development and .NET remoting. Technologies covered include the Common Language Runtime (CLR), .NET framework classes, C#, ASP.NET, and ADO.NET - service oriented architecture, design, performance, security, content managements systems and deployment issues encountered in building multi-tier distributed applications.
Expert Dot Net Training Institute
Become and Expert in Microsoft ASP.Net, C# .Net, ADO.Net, dot net programming with IQ Stream Technologies' advanced dot net courses and learning programmes. Main highlights of our ASP.Net, C# .Net, ADO.Net Training in Bangalore City (BTM Layout - BTM 2nd stage) include Intensive Practical Training, Advanced Learning Materials & Tools, Friendly Classrooms etc. IQ Stream Technologies offer beginner, intermediate and advanced lessons for you to become an expert in the area - ARRAYS, Decision making, dot net 4.6, dot net 4.0, c# treeview, c sharp programming, dot net core, dot net framework, Loops, Methods, Using Object-Oriented Programming in C# .NET, Object Oriented Concepts, Boxing, Delegates, Events, Interfaces, Using Forms, Windows Forms, Input, Output, and Serialization, Processes, App Domains, Contexts, Threading. Call us right now to know more about dot net course fee in Bangalore. Learn dot net from IQST - one of the best in dot net training institutes in Bengaluru India with more excellent reviews and testimonials. Modules covered will be ASP.NET, VB.Net, C#, ADO.net, WCF, WPF, MVC etc.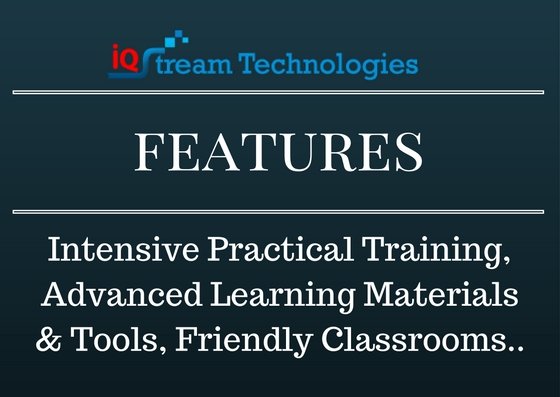 5 Star Reviews & Ratings
Reviewed By: Bhaskar Kolloju
Reviewed Date: Nov 14, 2017
IQ Stream is very good training center for freshers training. My nephew did IQS Diploma in Software Development here and got placed in Ajr Info Systems. IQ Stream has IT profession with industry experience. They always stress on learning programming skills and getting complete picture of the technology. Project work was also very useful.
Reviewed By: Ramya Gowda
Reviewed Date: July 20, 2017
I took Fusion HCM training at IQ Stream Technologies. The trainer is very experienced and provided reference to all real time scenarios. The management is very professional and helpful! They provide support outside the class too.
Dotnet Training Location at BTM Layout:
IQ Stream Technologies Advanced Dotnet Training Institute Location: BTM Layout, Bangalore
Mobile : +91 9620196773, +91 8884684156
Landline: +91 80 42073645​
Email: info@iqstreamtech.com
Address: #3, 8/2 Anugraha Complex, 1st E Cross,
20th Main, Maruti Nagar Main Road,
BTM Layout 1st Stage, Bangalore - 560029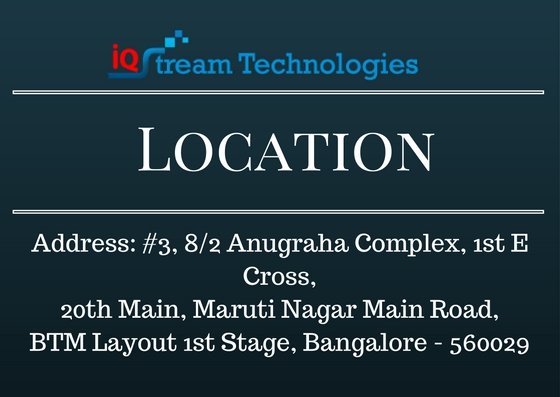 Highlights of Our Dotnet Training in Bangalore
- Intensive Practical Training
- Advanced Learning Materials & Tools
- Friendly Classrooms
- Practical Guidance
- Advanced Lab Facility
- Placement Oriented
- Expert and Experienced Trainers
Course Objectives:
✓ Introduction to Networking and the world wide web.
✓ Building multi-tier enterprise applications.
✓ Introduction to the .NET framework.
✓ .NET Interoperation services.
✓ Client side programming: HTTP, CGI, Cookies, JavaScript, HTML, XML.
✓ Server side programming: Web Forms, ASP.NET Web Services, ADO.NET Data Access
✓ Client/Server Programming, 3-tier architecture.
✓ .NET Remoting.
✓ ASP.NET Web services and web service security.
✓ RESTful, SOAP, DISCO, and UDDI.
✓ Simple Object Access Protocol (SOAP) and Web Services.
✓ Software as a Service (SaaS).
✓ Cross-Platform Mobile Application Development with HTML5 and PhoneGap
Batch Size and Schedules:
✓ Limited Batch Size (Maximum 8)
✓ Regular Batches (Morning, Day and Evening)
✓ Weekend Training Batch (Saturday and Sunday)
✓ Fast Track Batch
Other Related Courses:
Live Informatica Data Quality Training
IBM DataStage Training
ETL Testing Training
Microsoft .Net Training
Dot Net Course Details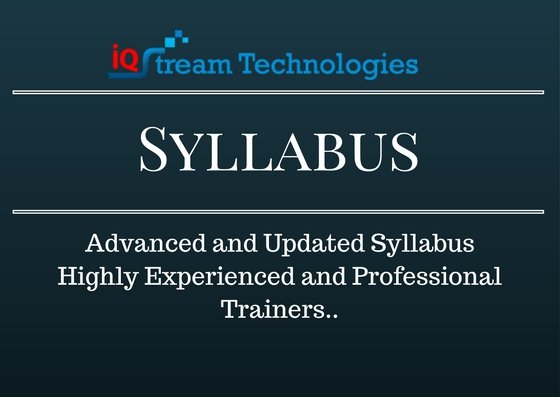 Module 1
✓ Introductions
✓ Course mechanics
✓ .NET Overview
✓ CLR
✓ Assemblies (monolithic vs. component-based applications)
✓ Execution Model
✓ Client-Side vs. Server-Side Programming
✓ Web Technologies
Module 2
✓ HTML
✓ JavaScript
✓ CSS
✓ jQuery
✓ OpenDesigns
✓ Introduction to C#: Types and program structure
Module 3
✓ Development Environment Setup
✓ ISS
✓ SQL Server and Visual Studio
✓ Advanced C#: OOP
✓ Delegates
✓ Events
✓ Attributes
✓ unsafe code
✓ .NET Interop
Module 4
✓ .NET Framework Class Library (FCL): System
✓ Collections
✓ I/O
✓ Networking
✓ Threading
✓ Transactions
✓ Exceptions
Module 5
✓ Databases and Data Access using ADO.NET & LINQ
Module 6
✓ Introduction to ASP.NET
✓ programming model
✓ server controls
✓ data binding
Module 7
✓ ASP.NET state management
✓ tracing
✓ caching
✓ error handling
✓ security
✓ deployment
✓ user and custom controls
✓ DotNetNuke
Module 8
✓ Exposing and consuming ASP.NET Web Services
✓ XML
✓ RESTful
✓ SOAP
✓ DISCO
✓ UDDI
Module 9
✓ Continue with Web Services
Module 10
✓ Developing Secure Web Services
Module 11
✓ .NET remoting
Module 12
✓ HTML5 and Cross-Platform Mobile Apps using PhoneGap
Module 13
✓ Course Review/catch up
Visual Studio
✓Getting Started with C#
✓Creating a Hello World Program
✓Learning about built-in Types and Variables
✓Working with Strings
✓Working with Dates and Times
✓Making Decisions in Your Program
✓Implementing Logical Expressions
✓Looping Based on a Logical Expression
✓Looping a Known Number of Times
✓Working with Arrays and Collections
✓Looping Through Members of a Collection
✓Defining and Calling Methods
✓Understanding Classes and Objects
✓Working with Scope and Accessibility Modifiers
✓Encapsulation and Object-Oriented Design
✓Understanding Namespaces
✓Introducing LINQ
✓When and How to use Exceptions
✓Testing Your Code
✓Common Patterns and Antipatterns
(Ref: https://www.microsoft.com/net/tutorials/csharp/getting-started)
Recommended Textbooks:
✓Beginning ASP.NET 4.5 in C# and VB, Wrox, 2012, ISBN-10: 1118311809
✓Beginning ASP.NET 4.5 in C#, Apress, 2012, ISBN-10: 1430242515
✓Pro C# with .NET 3.0, Andrew Troelsen, Apress, 2007, ISBN 978-1-59059-823-8
✓Microsoft Windows SharePoint Services 3.0 Step by Step, Olga Londer, Todd Bleeker, Penelope Coventry, James Edelen, Microsoft Press, 2005, ISBN-10: 0735623635
✓Microsoft .NET XML Web Services: Step by Step, Adam Freeman, Allen Jones, Microsoft Press, 2003, ISBN 0-7356-1720-1
✓Microsoft .NET Distributed Applications: Integrating XML Web Services and .NET Remoting, Matthew MacDonald, ISBN 0-7356-1933-6
Dotnet Training Reviews
IQ Stream Technologies

Rated

5

/5 based on

20

reviews