DotNet (.Net) Training in Bangalore
IQ Stream Technologies is one of the top Microsoft .Net (Dot Net) course training institutes in Bangalore with highly experienced and skilled trainers. IQ Stream Technologies Bangalore also offers placement assistance for students who enrolled in Advanced Microsoft .Net Training Courses. We offer advanced ASP.Net (ASP Dotnet) classes, SQL, C# training, ADO.Net, dotnet online training (dot net 4.6) learning experiences and tools for better learning, understanding and experience. We are the experts in providing high quality Microsoft DotNet Certification Training in Bengaluru BTM area with dedicated and specially designed classrooms and highly trained tutors.
Expert Dot Net Training Institute
Become and Expert in Microsoft ASP.Net, C# .Net, ADO.Net, dot net programming with IQ Stream Technologies' advanced dot net courses and learning programmes. Main highlights of our ASP.Net, C# .Net, ADO.Net Training in Bangalore City (BTM Layout - BTM 2nd stage) include Intensive Practical Training, Advanced Learning Materials & Tools, Friendly Classrooms etc. IQ Stream Technologies offer beginner, intermediate and advanced lessons for you to become an expert in the area - ARRAYS, Decision making, dot net 4.6, dot net 4.0, c# treeview, c sharp programming, dot net core, dot net framework, Loops, Methods, Using Object-Oriented Programming in C# .NET, Object Oriented Concepts, Boxing, Delegates, Events, Interfaces, Using Forms, Windows Forms, Input, Output, and Serialization, Processes, App Domains, Contexts, Threading. Call us right now to know more about dot net course fee in Bangalore. Learn dot net from IQST - one of the best in dot net training institutes in Bengaluru India with more excellent reviews and testimonials.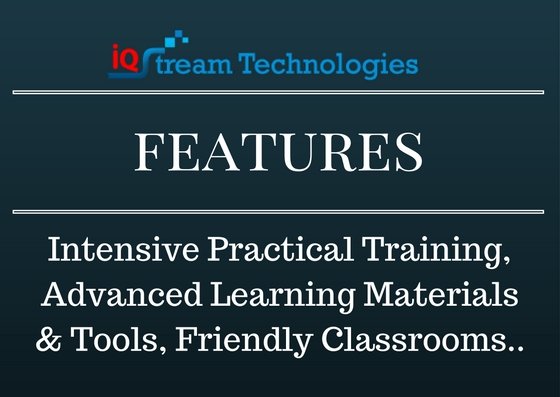 Dotnet Training Location at BTM Layout:
IQ Stream Technologies Advanced Dotnet Training Institute Location: BTM Layout, Bangalore
Mobile : +91 9620196773, +91 8884684156
Landline: +91 80 42073645​
Email: info@iqstreamtech.com
Address: #3, 8/2 Anugraha Complex, 1st E Cross,
20th Main, Maruti Nagar Main Road,
BTM Layout 1st Stage, Bangalore - 560029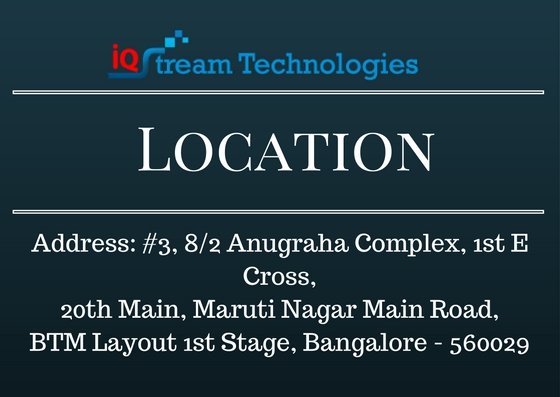 Highlights of Our Dotnet Training in Bangalore
- Intensive Practical Training
- Advanced Learning Materials & Tools
- Friendly Classrooms
- Practical Guidance
- Advanced Lab Facility
- Placement Oriented
- Expert and Experienced Trainers
Other Related Courses:
Live Informatica Data Quality Training
IBM DataStage Training
ETL Testing Training
Microsoft .Net Training
Dot Net Course Details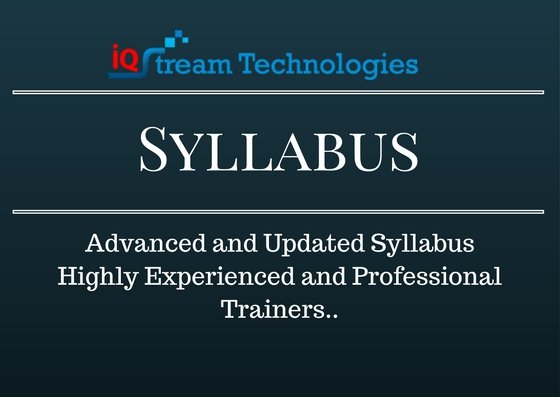 Visual Studio
Getting Started with C#
Creating a Hello World Program
Learning about built-in Types and Variables
Working with Strings
Working with Dates and Times
Making Decisions in Your Program
Implementing Logical Expressions
Looping Based on a Logical Expression
Looping a Known Number of Times
Working with Arrays and Collections
Looping Through Members of a Collection
Defining and Calling Methods
Understanding Classes and Objects
Working with Scope and Accessibility Modifiers
Encapsulation and Object-Oriented Design
Understanding Namespaces
Introducing LINQ
When and How to use Exceptions
Testing Your Code
Common Patterns and Antipatterns
(Ref: https://www.microsoft.com/net/tutorials/csharp/getting-started)
Dotnet Training Reviews
IQ Stream Technologies

Rated

5

/5 based on

20

reviews