In my last article I discussed how an enterprise is mapped in Oracle Fusion via CoA and how it uses the segments for accounting and reporting purpose. Continuing the discussion forward, lets deep dive to know more about different types of segments and their business purpose. Also we will cover one the most important concept of Fusion ERP i.e. Legal Entity & Business Unit. This article will lay a good foundation for our Super Corp Implementation which I am planning to start with you all from my next article. Learn more about the Oracle Cloud Fusion Financials training here.
You all must have heard a lot about primary balancing segment but maybe this always look as a alien term(Trust me, even it took months of me to understand it completely).Let's start
Primary balancing segment is a segment on which all your journals are 'BALANCED'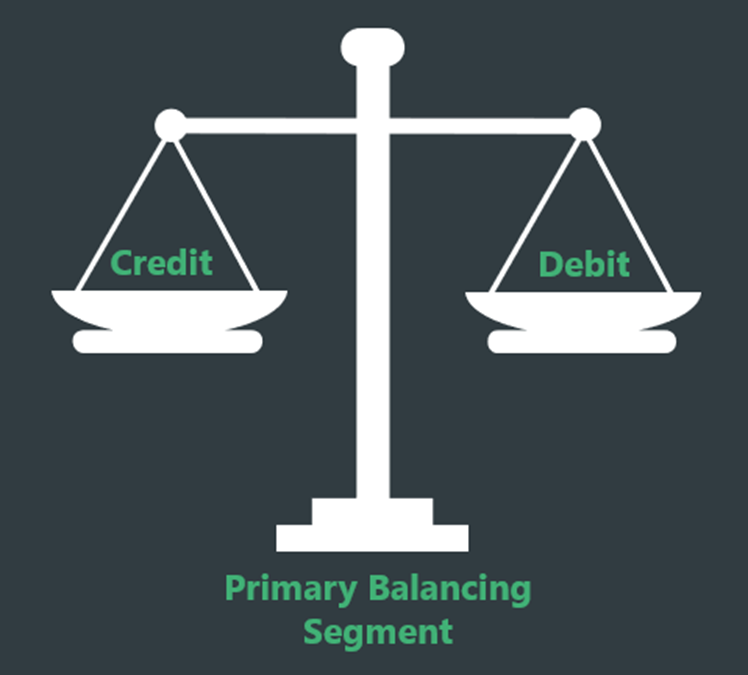 Credit and Debit entry of the accounts should have same primary balancing segment. It acts as a pivot point. Lets understand this from an example: There are 2 scenarios of account entry below. Can you spot the difference.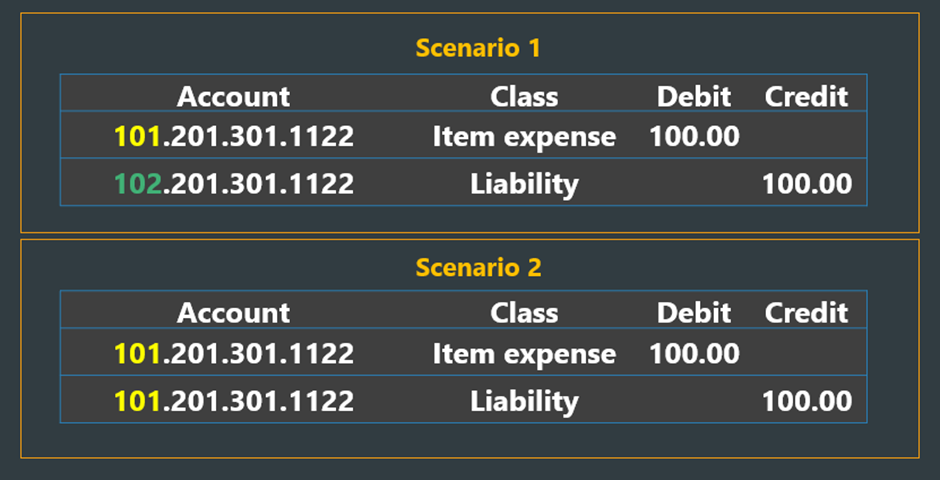 The difference you spot is the primary balancing segment. In scenario 1 , journal is not balanced since Cr and Dr are booked in different companies whereas in scenario 2 both Cr and Dr are booked for same company. Conceptually if you understand for scenario 1 , what we are telling is the goods are procured by Super Motors and paid by Super Foods (unless there is no SSC) in this way our period end reports will show wrong data. Hence there arises a concept of Balancing segment which is generally denoted by Company as reporting is done at company level(Income Statement and Balance Sheet are prepared for company).
Let's look at Cost Center (CC) segment now: Cost Center is a segment which generally has a cost attached to it. This segment mainly depends on organization to organization usage. Easy to understand eg would be different departments of the company like HR, Sales, Finance, R&D, IT. This way an organization would be able to understand the expenses related to different department. Although this eg is only practical if company is completely handling all its operation in ERP.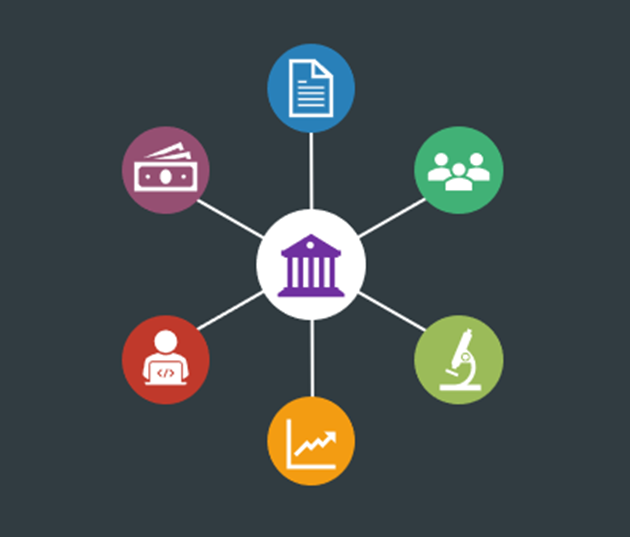 Natural Account: Natural account is used to denote the category of account. Account Category would be Assets , Liability , Revenue, Owner's Equity and Expenses. It is a mandatory segment as it will be needed in Financial reporting , Reconciliation and to do the correct accounting 😉. Also Oracle Fusion auto populates the accounts in the setups depending on the account category and account type.(Do read on google more about this category to get a good hold of this accounting concepts also there is a beautiful video I found on youtube which I am embedding at bottom of my article. Trust me that video is a gem to understand the Finance concepts from ERP perspective in 45 mins(One less Netflix episode 😉)).Account Category and Account type attributes are enabled only for Natural Segment. We will see this in our next article when we create the Rapid Implementation sheet.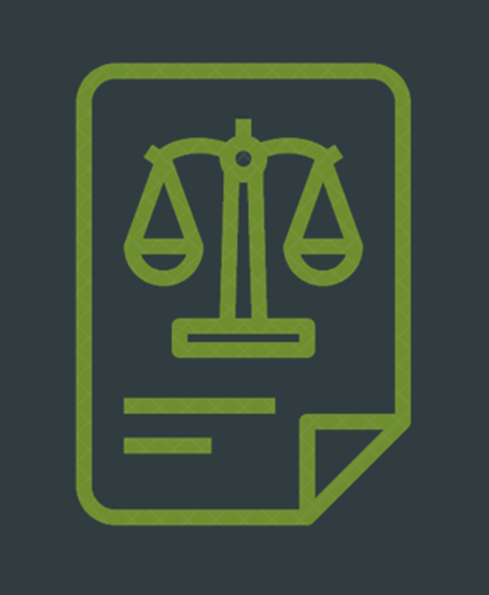 Legal Entity(LE) : Legal Entity is the party that is registered with government as per the applicable law. This entity would be liable to pay tax, abide by the law and also all the transaction in ERP are performed on behalf of the LE .Enterprise and Legal Entity are different. There can be only one enterprise in Fusion but can have multiple LE under it. In our implementation setup , Super Corp is a enterprise and Super Motor and Super Foods are LE.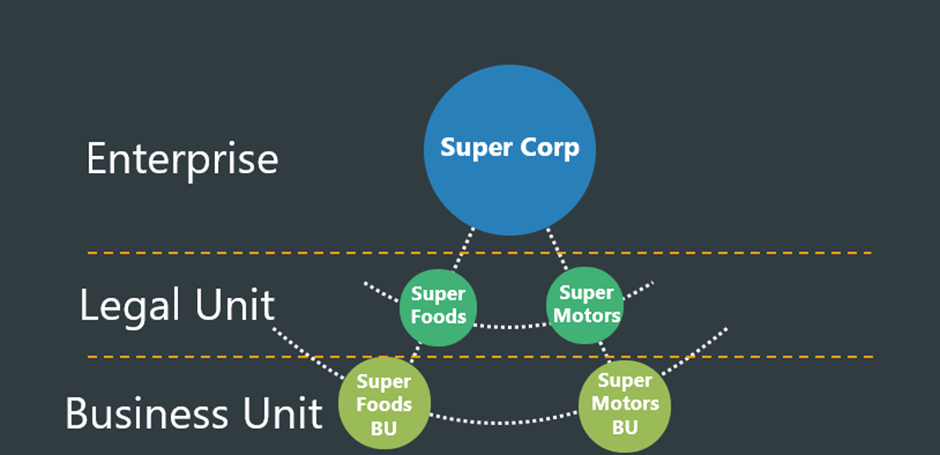 Business Unit (BU): Business Unit are the mainly developed for security and reporting purpose. All the setups on Payables, Receivables, Procurement and other modules are done w.r.t to BU. We can assign the functions to BU depending on the nature it is created for to perform functions like invoicing, payment, requisitions. Below is the list of different functions a BU can perform.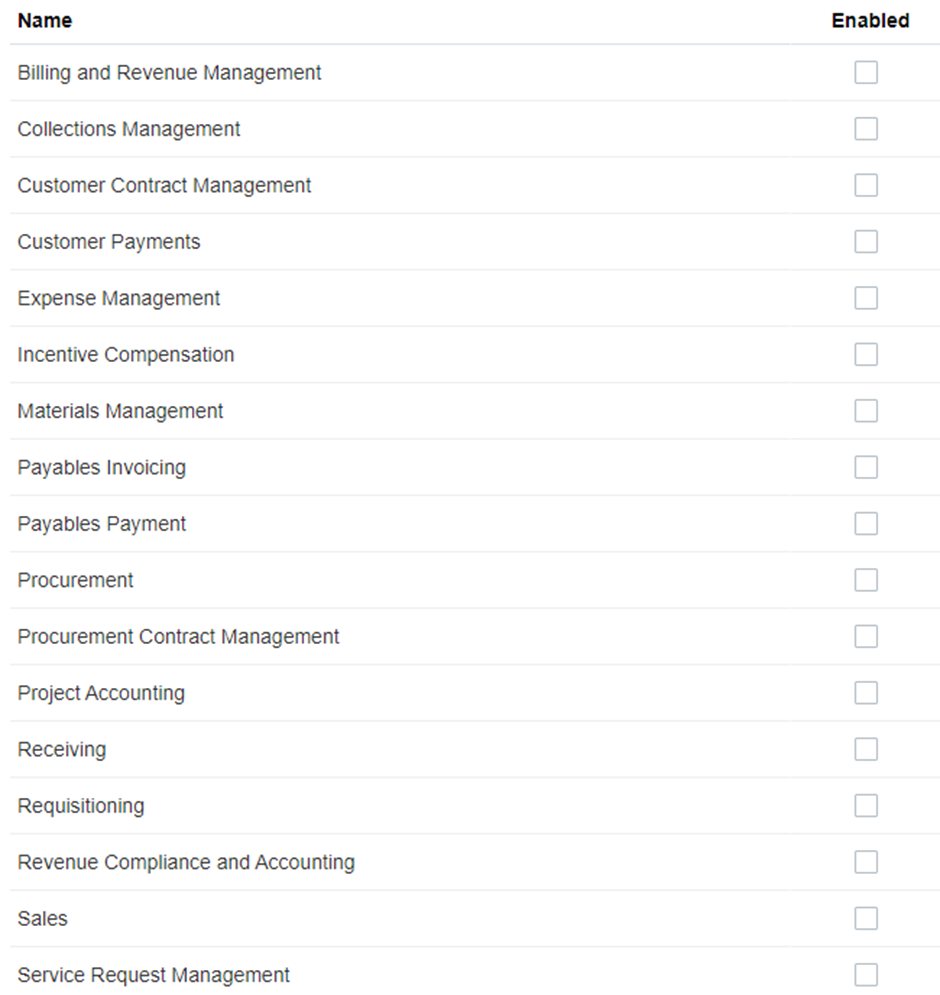 Depending on the organization's requirement we can have one or multiple BU for a single LE. Although good practice is to have one BU for one LE. In our eg Super Motors and Super Food would be using separate payment terms, account combination etc so we will create a separate BU for each of this LE. In this way users will also be prevented to access cross-organization access to data as users are assigned roles wrt BU. Below is the eg how roles are assigned as per BU.

Ending my article here…pheww lot of theory gyaan for today😊.So now we are ready with the key concepts of enterprise structure next time will lets wear the consultant's hat and prepare the Rapid Implementation sheet (that's what Oracleji calls it) for our Super Corp. Time to get Super Corp into Oracle Fusion now. This will also be a good learning for someone who is from non-Oracle background as they can learn how a ERP is implemented. I will try to attach the sheet which I will be using to the setup with my article so anyone who hasn't exposed to Implementation or wants to hands on along with article can feel free to do so. Have a great weekend 😇