Post our discussion about all the key concepts in my last 2 articles , today I am starting with implementation of Super Corp in Fusion which would give real time understanding about the implementation of an Enterprise.
Setup of enterprise can either be done by putting data manually by going to specific tasks but the problem of this approach is it's very lengthy and time-consuming process. Although by doing manual setups you have more flexibility but it takes time. To overcome this, Oracle has developed a smart approach for this which is RAPID IMPLEMENTATION. This approach deals with putting all the data in a single excel workbook and in 10 mins your enterprise is ready in Fusion ( By the time you complete your 2 cups of Maggi your Fusion Instance is ready 😉 ).Although preparing this sheet requires lot of discussion, efforts and due diligence. Below diagram will give a good understanding of the flow and connection of different components that make up the posting of transaction in Ledger successful. To learn more about the Oracle Cloud Fusion Financials training, check here.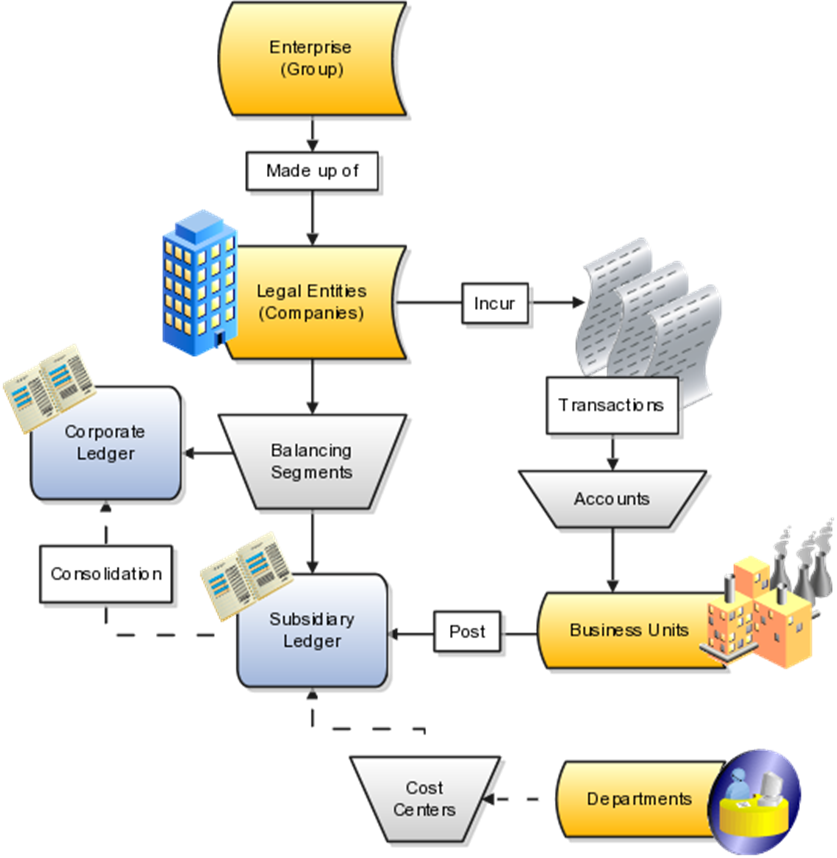 Let's understand the configuration of these components via Rapid Implementation and mapping the business requirement of Super Corp.
Super Corp is a holding enterprise of 2 companies, Super Motors and Super Foods. As the name suggests Super Motors is in Automobile sector and Super Foods is in FMCG sector with specialization in Foods. Both this child companies will have 1 BU each. They want to identify the transaction w.r.t to their Products so there will be one segment to identify the products. As discussed in my previous article this segment will help them to do analytics and strategize their sale. We will have Five Segment COA structure i.e. Company, Cost Center, Natural Account, Product and Intercompany (to identify intercompany transaction. Will discuss this in more detail in my future articles).
Lets start implementation by creating New project.
Click on Setup & Maintenance>Task>Manage Implementation Project>Click Create>Enter below details:

Click Next> Select everything under Finance and Procurement>Save and Open Project.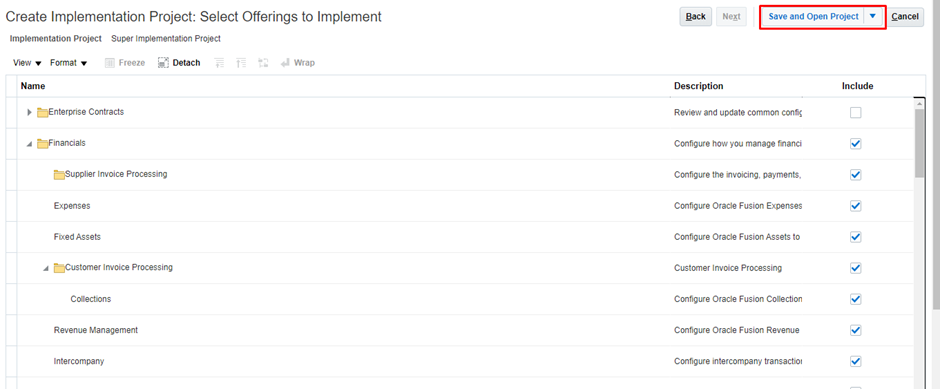 Select Task Create Chart of Accounts, Ledger, Legal Entities, and Business Units in Spreadsheet which will download the Rapid Implementation file.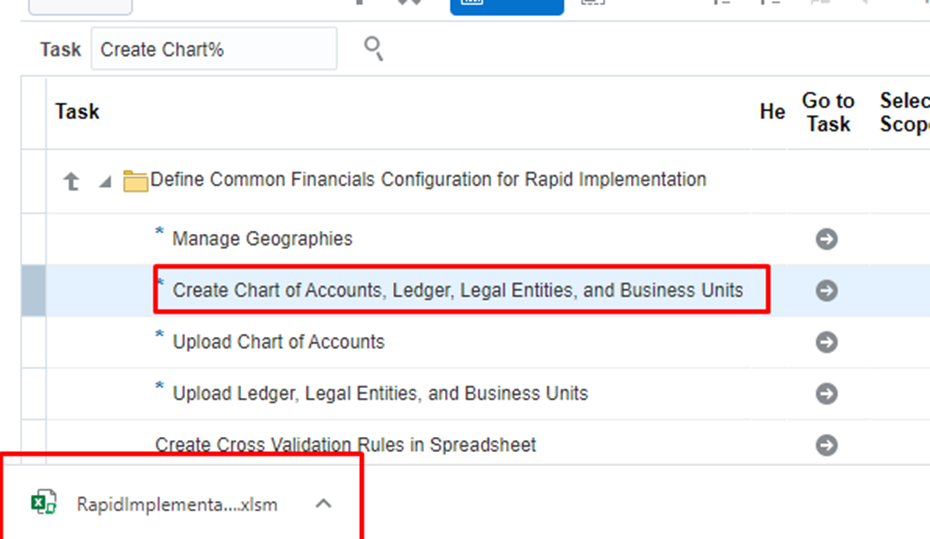 Open the sheet>Go to COA, Calendar and Ledger worksheet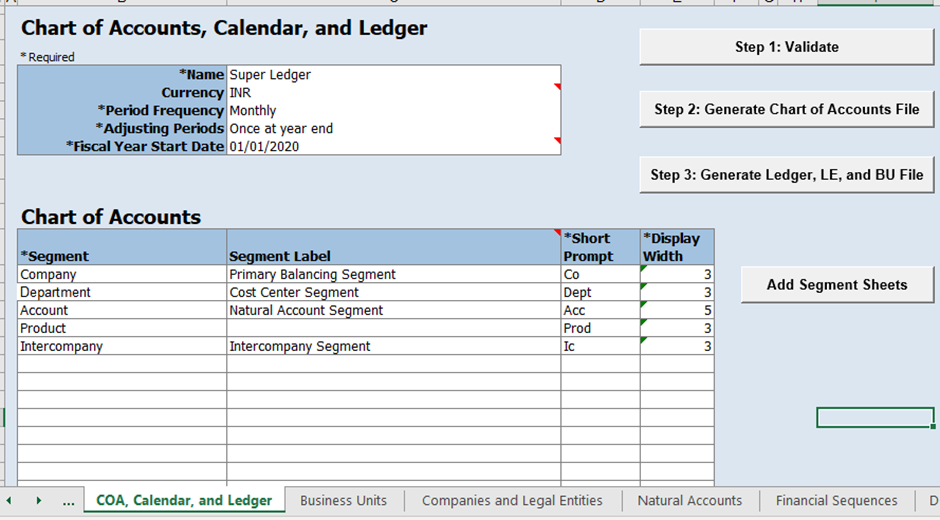 COA, Calendar and Ledger worksheet: This sheet deals with defining your CoA. In the name you mention the Primary Ledger Name and its other components in the Header. Below is the list of all the segments and its attribute (Segment Label).As per the requirement business we are defining the 5 segments. Once the sheet is filled as below. Click on Add Segment Sheets.
· Currency mentioned is the Functional Currency
· Order of segments in this sheet determines the order of segment in your accounting
· Display width determines the length of segment values
· Be extra careful with the Fiscal Year start Date as it will the first period open for posting in your ledger in our ledger
Business Units: In this sheet , we assign Business Units to the Legal Entity. As discussed in my previous article, BUs are defined for security and reporting purpose. For both the LE we will define one BU each.

By default the BUs defined here, will have all the business function enabled. In case needed we need to restrict it from the setup task separately.
Companies and Legal Entities: Here we mention the Legal Entity, address ,registration number and other details pertaining to legal requirements. On the right most side we define the parent child relationship. In our use case both Super Foods and Super Motors are child of Super Corp. This LE have BUs defined accordingly in our previous sheet.

· Each LE identifier is unique in Fusion. In case you are using shared instance, be careful with identifier name as it will throw a duplicate error.
· Only the entities mentioned in the child can be posted in ledger. In other words, Parent values are only used for reporting.
Natural Accounts: In this sheet we populate all the accounts for posting.2 important attribute we define here is the type of account and Financial category. Right definition of account type helps Oracle Fusion to auto populate the default accounts in many system setups. Financial category is the key enables to determine the account for reconciliation in month end closure. For our implementation, I am using the sample accounts shared in Oracle Demo sheet.

Financial Sequence: This sheet help to fulfil the requirement in case there is need to unique numbering of transactions. Combined configuration of period and initial number will enable Oracle to determine the numbering of transaction. As seen in below screenshot Oracle will start counter monthly, annually or never e.g. after every month counter will start from initial value.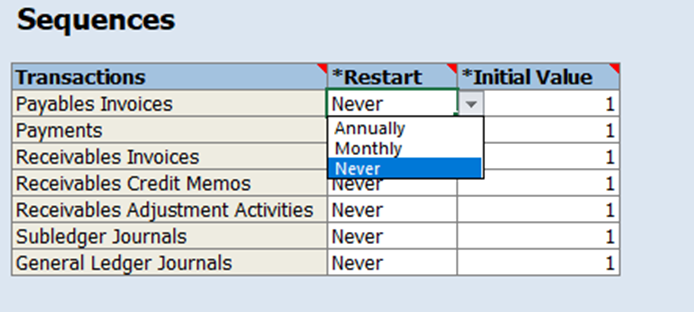 Department sheet: This sheet will have all the values of dept within the organization. In our implementation we have selected this as a cost center attribute.

Product Attribute: In this sheet all the products are populated as per the Business line of Motors and Foods.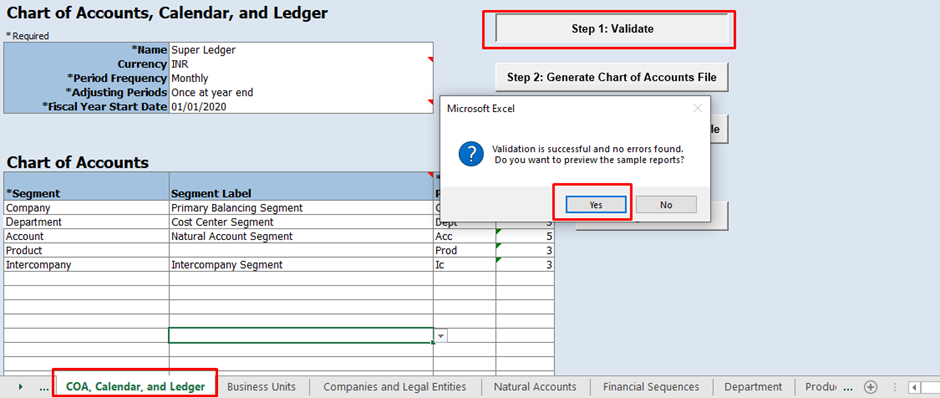 Click Generate Chart of Account File>Save as below: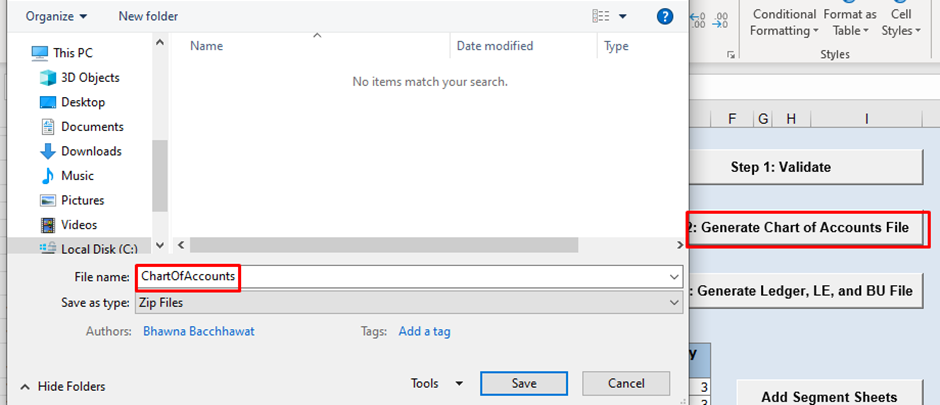 Click Generate Ledger, LE, and BU File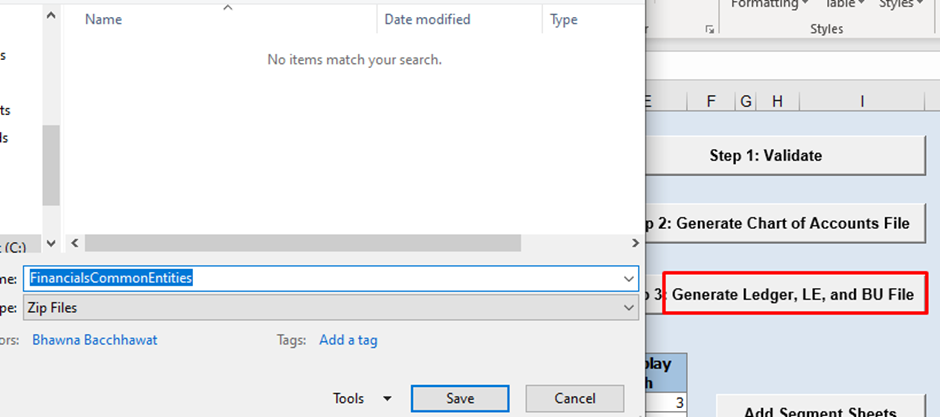 Now Search for task> Upload Chart of Accounts

Select Chart of Account file as below> Click Submit

Below process should get completed successfully > Click Done

Select > Upload Ledger, Legal Entities and Business Unit Task

Select the file as below and click submit
Below Process should get completed successfully: