Fusion Technical & Oracle Integration Cloud Training
New Batch: Starting on 8th January Weekly 3 days (Monday, Wednesday, Thursday) 8AM to 9.30AM IST It may take about 6 weeks to complete Do you want to start immediately or above timing does not suite? We will be able to help with the 1) Recordings 2) Project Resourses 3) A special overview session with the trainer, you can start learning with the help of the recordings and attend the regular sessions in the batch.
Main goal of this course is to become expert with creating integrations on Oracle Integration Cloud. Knowing Oracle Integration Cloud Service (ICS) will make you special in Oracle SaaS/Fusion industry. This is very relevant technology for Oracle Apps Technical people to make one self leader in Fusion SaaS by learning new concepts of Web services & Integration technology and leverage your prior experience. IQST also offers Corporate Training for Oracle Integration Cloud Service (ICS) courses to improve the knowledge and standard of your employees.
Oracle Integration Cloud (OICS) has become de-facto standard for Integrations on Oracle Cloud. OICS is a complete, lightweight and secure integration solution from Oracle that enables you to integrate applications on the cloud. It makes the whole approach of integration simpler, you can achieve integrations among the applications residing in Oracle cloud, on-premise and other cloud providers.
Oracle provides adapters for Oracle SaaS applications like Oracle Sales Cloud, Oracle Service Cloud, Oracle E-Business Suite and so on. It also provides adapters for Non Oracle SaaS like Salesforce, Google Cloud services etc. OIC also has adapters for various technologies. Special Oracle Integration Cloud corporate training also delivering at IQ Stream Technologies, Bangalore location.
OIC supports creating connections using either application specific adapters like mentioned above, using generic adapters like SOAP and REST, using technology adapters like File, FTP, Database, AQ, JMS etc.
Oralce Integration Cloud makes the integration between On-premise and cloud seamless with the help of Agent approach. There might be several situations where your on-premise applications do not expose any web services, or the services exposed are not available on a public IP. OIC Agent approach will enable to bring any of your on-premise applications into the Integration solution on OIC. You can communicate to a on-premise database, file system etc. in the OIC integration solutions.
OIC also comes with powerful orchestration features similar to Oracle SOA-BPEL orchestration. It provides multiple integration approaches like Basic Routing, App based and Scheduled Orchestration, Publish and Subscribe Events. Solution providers can choose the right approach based on the use case to simplify the solution. IQST offers Oracle ADF corporate training if your organization wish to train their employees on Oralce Integration Cloud processes and responsibilities.
Top Oracle ICS Training Institute in Bangalore
Become and Expert in Oracle Integration Cloud (OIC) with IQ Stream Technologies' advanced learning programmes. Main highlights of our Oracle Integration Cloud Training Course in Bangalore (BTM Layout) include Intensive Practical Training, Advanced Learning Materials & Tools, Friendly Classrooms etc. IQ Stream Technologies offer beginner, intermediate and advanced lessons for you to become an expert in the area.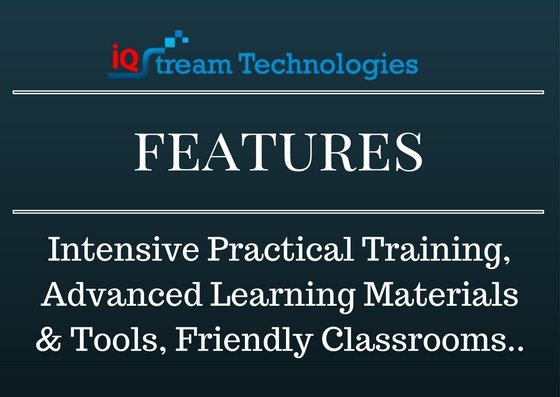 Course Overview:
| | |
| --- | --- |
| Course Name | Oracle Integration Cloud Training |
| Venue | IQ Stream Technologies |
| Official URL | Oracle Integration Cloud Training |
| Demo Classes | On Demand |
| Training Methodology: | 25% Theory & 75% Practical |
| Course Duration | 40-45 Hours |
| Class Availability | Weekdays & Weekends |
| Demo Training | Email ID : info@iqstreamtech.com |
OIC Training Location at BTM:
IQ Stream Technologies Oracle Integration Cloud Training Institute Location: BTM Layout, Bangalore
Mobile : +91 9620196773, +91 8884684156
Landline: +91 80 42073645​
Email: info@iqstreamtech.com
Address: #3, 8/2 Anugraha Complex, 1st E Cross,
20th Main, Maruti Nagar Main Road,
BTM Layout 1st Stage, Bangalore - 560029
Nearby Locations: BTM Layout, Jayanagar, JP Nagar, Koramangala, HSR Layout, Bommanahalli
Request Oracle Integration Cloud Training Online Demo

Oracle Integration Cloud Training Demo - Video
OIC provides most of the powerful features of Oracle SOA and makes it simplified by completely eliminating the overhead of maintaining on-premise Oracle Fusion Middleware (FMW) infrastucture like Weblogic/SOA server, JDeveloper IDE etc. It's one stop solution where you get everything on OIC for building an integration to taking to live. It's so simple that, just build and activate, your solution will be live. It's completely hazel free and simple.
This is a boon for Oracle Apps Technical Consultants to make foot print in Oracle SaaS/Fusion Technical and Integration activities by leveraging all your prior knowledge and experience of ERP.
The course is organized into three parts:
Part1: Oracle Integration Cloud (OIC/ICS)
Part2: Oracle Fusion Technical - Manual
Part3: Integration with Fusion SaaS
Bangalore, Delhi, Mumbai, and Chennai
IQ Stream Technologies is one of the top Oracle Integration Cloud Training institutes in Bangalore BTM with highly experienced and skilled trainers. IQ Stream Technologies also offering Oracle Integration Cloud online training for Bangalore, Delhi, Mumbai, and Chennai students.

Marathahalli, Hebbal, KR Puram, Whitefield
Main highlights of our Oracle Fusion HCM Training in Bangalore (BTM Layout), Delhi, Mumbai, and Chennai are top classrooms, advanced syllabus, fast learning enhanced strategy etc. The course is organized into to three major parts First part is to get knowledge on Oracle ADF Technology. Second part is to explore Oracle SOA Technology. The Third part is on Fusion Applications.
5 Star Reviews & Ratings
Reviewed By: Sarfaraz Alikhan
I learn the oracle integration cloud in fast track .I am amaze with knowledge of trainer . He (Bhaskar) is very good trainer , He cleared my all doubt about topics even though I am new to integration cloud I followed him and gained confidence now.
Reviewed By: Shivi Goel
Recently had Online Training for Fusion. Mr. Bhaskar was the Trainer. Sessions were interactive. Attendees were allowed to ask questions & he gave us explanation with examples. It was like sitting in a classroom and never had a feeling that it's Online.. :) It was really a good learning experience. Thanks!
Reviewed By: Ampumuza Dickson Amon
The trainer was very engaging and the training was very practical.
Reviewed By: Saurabh Agarwal
Recently had training for Fusion Technical. Trainer was Mr. Bhaskar. I had a wonderful experience with Bhaskar. He covered all training topics in detail and also shown practical examples. Assignments provided during training help us a lot to understand and learn. Very helpful!!
Related Courses
Part1: Oracle Integration Cloud
Introduction
Overiew of Oracle Cloud Introduction to Various Oracle Cloud Offerings (IaaS, PaaS, SaaS) Overview of Oracle Fusion Middeware Architecture of Oracle Fusion Applictions SOAP Webservices and WSDL REST Webservices XML, XSD, JSON
OIC Architecture
OIC Features Integrations (Connecting Applications) Process Builder (Automating Business Processes) Visual Builder (Developing Applications)
OIC Instance
Steps to get Oracle Cloud Trial Access Provisioning OIC Instance Maintaining OIC Instance
Basic Workflow
Various components of OIC Adapters, Connections, Integrations, Designer
Pre-packaged Components
Simple use case of Integration using REST/SOAP Prebuilt Integrations Oracle Market Place (Oracle Created & 3rd Party) Prebuilt Connections Downloading/Importing & Using Prebuilt integrations
Adapters & Connections
Oracle Cloud Adapters Packaged Adapters Creating Connections Connection Properties (Triggering & Invoking) and Security Configuring non-Oracle SAAS Adapters Definition Configuring SOAP Adapter Configuring REST Adapter Configuring Database Adapter Configuring File Adapter for write Configuring File Adapter for poll read Configuring FTP Adapter for various operations Configuring Oracle HCM Cloud Adapter Configuring Oracle ERP Cloud Adapter
Integrations
OIC Message Exchange Patterns (Synchronous, Asynchronous & Event Based) Adapters & Message Exchange Patterns OIC Supported Integration Patterns
Integration Patterns
Basic Routing App Driven Orchestration Scheduled Orchestration Publish to OIC Subscribe to OIC File Transfer
Defining Integrations
Integration Designer Overview Creating Integration Defining Trigger/Source Connection Defining Invoke/Target Connection Data Mapping Tracking Fields Adding Enrichments Activating & Testing Integrations (Generate WSDL)
Data Mapping
Data Transformations Visual Mapping XPath functions Lookups (Map Code Values)
Content-Based Routing
Define Content Based Routing Adding Filter & Routing Expressions Routing Path & Mapping Data
Orchestration
App Driven vs Scheduled Orchestration Creating Orchestration Define Trigger & Invoke Sections Oracle BPEL Process Manager Activities Activities Related Data Assign, Map Iterations and Complex Logic Activities For-each, While, Switch & Scope Logger, Note, Notification & Wait
Project Work for PO Processing in OIC
Develop validateCC using DB Adapter and SOAP Adapter Develop PO Proccessing using App based orchestration, SOAP and File Adapters Invoke ValidaeCC service in PO Processing
Scheduling
Defining Integration Schedule Managing Integration Schedule Monitoring Integration Schedule
Maintenance of Integrations
Packaging Integrations Viewing/Creating/Exporting Packages Versioning Integrations Activation/Deactivation of Integrations Monitoring Integrations, Activity Stream, Agents & Schedules Tracking messages
Part2: Oracle Fusion Cloud Technical
Introduction o Fusion Applications
• Introduction to Fusion Applications
• Architecture of Fusion Applications
• Overview and Accessing Fusion Applications UI
• Oracle Enterprise Repository (OER)
Manual Migration & Integration in Fusion Apps Cloud
• Explore Migration and Inbound Integration methods
• Inbound Integration with File Based Data Import (FBDI)
Automation of Migration & Integration in Fusion Apps Cloud
• Using SOAP UI to access Fusion Apps SOA Services
• FBDI Automation using OIC Orchestration Integration
• FBDI Automation using SOAP UI
• Automation of Web Service invocation
• Overview of Outbound Integration methods
• Outbound Integration with Financial Extracts
• Automation of Financial Extracts
Reporting
• Building OTBI Reports in Fusion Cloud
• OTBI Report as Dashboard using various reporting components
• Building Custom Reports using BI Publisher in Fusion Cloud
• Publishing the BI Report to Email and UCM
• Extract Data from Fusion Cloud through BI reports using SOAP UI • Extract Data from Fusion Cloud through BI reports using OIC Orchestration Integration
Oracle Enterprise Scheduler (OES)
• Creating a Job in Fusion Apps
• Scheduling a Job using ESS
• Verify the Results of the Executed Job
• Trigger the job by accessing Fusion SOA Service through SOAP UI
• Trigger the job by accessing Fusion SOA Service through Java
Oracle Universal Contenent Management (UCM) - File Import and Export
• Publishing BI reports to UCM
• Publishing Scheduled Job output to UCM
• Accessing UCM
• Searching for required files in UCM
Part3: Fusion Integration - Automation using OIC
FBDI Approach - Import bulk daily rates to Fusion using OIC Orchestration
How to find a template for a specific functional FBDI Manual Steps involved in FBDI Bulk Import FBDI - End to end Integration using OIC/Orchestration Automate using
ERP Integration
service Upload File to UCM Schedule Import Job Get status of the Process
Extract BIP report data to on-premise using ReportService
Integration for invoking ReportService Invoke ReportService on Fusion SaaS by passing the required inputs Integration will download the report to on-premise
Integration for creating Suppliers in Fusion - Poll Read Files from On-premise
Create multiple Suppliers in Fusion using Supplier Web service from Fusion Keep the supplier data in files in local system (on-premise) Develop OIC orchesration based integration to Read the files Upload to Fusion SaaS using Supplier web service Verify if the Suppliers got created in Fusion
Integration for creating Suppliers in Fusion - Scheduled Orchestration and DB Adapter
Create multiple Suppliers in Fusion using Supplier Web service from Fusion Keep the supplier data in on-premise database Develop OIC orchesration based integration using: Db Adapter Connection Scheduled Orchestratin forEach activity Upload to Fusion SaaS using Supplier web service Verify if the Suppliers got created in Fusion
Oracle Integration Cloud Training Course Reviews:
IQ Stream Technologies
Rated

5

/5 based on

20

reviews