Oracle APEX Training in Bangalore
Bangalore, Delhi, Mumbai, and Chennai
IQ Stream Technologies is one of the top Oracle APEX Training institutes in Bangalore with highly experienced and skilled trainers. IQ Stream Technologies Bangalore also offers placement assistance for students who enrolled in Oracle APEX Training Course. We offer advanced Oracle APEX training and advanced tools for better learning, understanding and experience. IQ Stream Technologies also offering Oracle APEX (Oracle Application Express) online training for Bangalore, Delhi, Mumbai, and Chennai students.

Marathahalli, Hebbal, KR Puram, Whitefield
Expert Oracle APEX Training Institute
Become an Expert in Oracle APEX Cloud with IQ Stream Technologies' advanced Oracle APEX learning programmes. Main highlights of our Oracle APEX Training in Bangalore (BTM Layout), Delhi, Mumbai, and Chennai
IQ Stream Technologies Oracle APEX Training Institute Location: BTM Layout, Bangalore
Also in: Marathahalli, Hebbal, KR Puram, Whitefield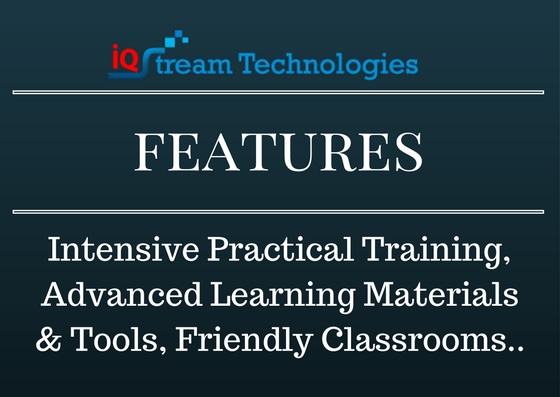 5 Star Reviews & Ratings
Reviewed By: Tharani Dharan
Reviewed Date: March, 2018
I took Oracle APEX training at IQ Stream Technologies.They have good teaching staff like Mr.Sachin and Bhaskar. The management is very professional and helpful, Affordable fees and quality courses offered.
Reviewed By: Zaki
Reviewed Date: March, 2018
I attended the Oracle Cloud Fusion session in IQ Stream Technologies. Sachin is the Trainer and the Training was good. The trainer explained the fundamental concepts very clearly and showed the roadmap of how to independently explore deeper into details.
Reviewed By: Naresh Bogavaram
Reviewed Date: March, 2018
The best thing i like at IQ stream is the personalized care that the trainers take to make me understand concepts well. The experienced trainers make it easy to learn.
Nearby Locations: BTM Layout, Jayanagar, JP Nagar, Koramangala, HSR Layout, Bommanahalli
Oracle APEX Training Demo:
Oracle Application Express (APEX) Training Syllabus
Overview of the course:
Oracle APEX framework is part of Oracle Database Server. We can develop end to end Web based applications using Oacle APEX. There is no involvement of heavy midtier development for building a web application using APEX. There is also no need of any separate IDE for developing. The framework comes along with web based Workbench by which we can build the application. We can develop an application based on DB objects. Once we have all the DB design is ready, we can develop Web application with all kind of user interace components without needing of Java/JEE,Dot Net etc. The technology also provides a way to make the applications rich and dynamic with additional Java Script and jQuery integration. This is definitely the best framework for Database experts to explore and leap into Web based application development. This is also a great option for existing Web development experts like Java Programmers, Dot Net Programmers, Oracle Technology Experts to develop a quick and rich web user interface for the business applications.
Pre-requisites
: Attendees should have knowledge on Database Design
Introduction to Web Technologies
Overview of various Web technologies Overview of Web Development Overview of Web Applications Architecture Overview of Model View Controller Introduction to HTTP Protocol Introduction to Web Server
Introduction to Oracle Application Express
Workspace Apex Workbench Build a Sample Web App - Employee List page End to End Apex Application Development Cycle Overview App Builder Export and Import Apex Application Export and Import Apex Page
SQL Workshop
Object Browser SQL Commands SQL Scripts Other Utilities
Database Application
Creating a Web Application based on Database objects Understanding UI Themes User Interface Components Page Designer Page Items Regions Computations Processes Validations Drag and Drop from Gallery Different views of a Page
Reports and Search Pages
Types of Reports Interactive Report Classic Report Interactive Grid
Forms
Develop Form pages using various UI components Types of forms Form Wizard Form on a DB Table Form on a Report Linking Form to a Report Master Detail Form TabularForm Quick Edit Reordering Items Changing Item Display Form on a Table with List View
Page Design
Page Modes: Normal, Modal and Nonmodal Page Design Toolbar Tree Pane Central Pane Grid Layout Messages Gallery Page Search Help Property Editor Code Editor Copy Page Delete Page Global Page
Regions
Types of Regions Positioning the Region Conditional Display of the Region Editing a Region Region Header and Footer Region Display Selector Copy Region Sub Region
Items and Buttons
Adding Items and Buttons to Pages Creating a Page Item Types of Page Items Date Picker Item Various properties of Item List of Values (Static and Dynamic) Select List Item Cascading LOV Creating a Button Editing a Button Button to redirect to URL Show Button as Link Manipulating Items
Session and Session State
Understating of Session in Web and HTTP protocol Session ID, Session timeout, How to access Session in the Pages
Page Processing and Validation
Page rendering vs Page processing Page Validation Working with Computations Automatic Row Fetch Process Automatic Row(DML) Processing Process On Submit Process On Load Process Options to populate items on a Form SQL Validation PL/SQL Validation Item String Validation Tabular Form Validation Branching
Shared Components
Overview of shared components Navigation Menu Page Navigation Menu Entries Static List Dynamic List Breadcrumb Navigation Bar
Thems, Templates and Files
Accessing Themes Switching Themes Editing and Creating Custom Theme Overview of Templates Types of Templates Applying a Template Copying and Editing a Template Using Substitution strings in template Uploadingan Image
Security
Creating Auhtentication Schemes Applying Authentication Scheme Implement Authorization Applying Authorization Scheme Authorization Schema at Item,Page, Column in a Report
Adding Calednars and Trees
Creating a Calendar Editing a Calendar attributes Linking the Calendar from a button What is Tree Creating a Tree
Dynamic Actions
What is Dynamic Action Create a Dynamic Action Partial Page Rendering using Dynamic Actions Enabling and Disabling an Item Seeing one Item when another item changes Clearing all items when a button clicked Disabling the button and submitting the page when button is clicked Refresing a Report using custom filters
Oracle Application Express on Oracle Cloud
Building an end to end HRMS application using Oracle APEX
Oracle APEX Reviews
Oracle APEX Training: 5 Out of 5
Rated

5

/5 based on

20

reviews