Informatica Courses in Bangalore
IQ Stream Technologies is one of the top Informatica Training institutes in Bangalore with highly experienced and skilled trainers. IQ Stream Technologies Bangalore also offers placement assistance for students who enrolled in Advanced Live Informatica Data Quality Training Courses in Bangalore BTM area. We offer advanced Live Informatica Data Quality Coaching Classes, Analyst Collaboration, Developer Profiling learning experiences and advanced tools for better learning, understanding and experience. We offer specialized informatica training in Bangalore with quality study materials, syllabus, placements and well trained tutors. Enroll in Live Informatica Data Quality Course and become an Expert in Transformations, Architecture, Data migration and More! Other courses offered at our IQ Stream Technologies Bangalore location are: Big Data, Cloud Computing, Devops, Data Visualization, Project Management, Data Science, Data Warehousing & BI Tableau, Microsoft BI, MicroStrategy 10 BI, Informatica MDM Informatica Powercenter.
Expert Informatica Training Institute at BTM
Become and Expert in Live Informatica Data Quality with IQ Stream Technologies' advanced Informatica ETL learning programmes. Main highlights of our Informatica ETL Training (Data Standardization, Address Validation, Identity Matching, Automatic Consolidation) in Bangalore (BTM Layout) include Intensive Practical Training, Advanced Learning Materials & Tools, Friendly Classrooms etc. IQ Stream Technologies offer beginner, intermediate and advanced lessons for you to become an expert in the area. Learn Informatica Developer, Admin & BigData Connectivity from the experts of Informatica training - IQ Stream Technologies.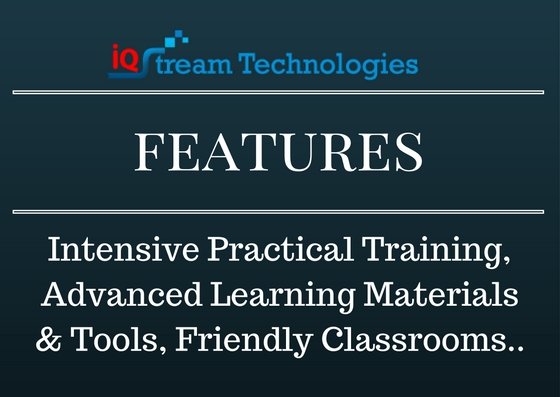 Course Overview:
| | |
| --- | --- |
| Course Name | Informatica Training |
| Venue | IQ Stream Technologies |
| Official URL | Informatica Training |
| Demo Classes | On Demand |
| Training Methodology: | 25% Theory & 75% Practical |
| Course Duration | 40-45 Hours |
| Class Availability | Weekdays & Weekends |
| Demo Training | Email ID : info@iqstreamtech.com |
Informatica Training Location:
IQ Stream Technologies Informatica Training Institute Location: BTM Layout, Bangalore
Mobile : +91 9620196773, +91 8884684156
Landline: +91 80 42073645​
Email: info@iqstreamtech.com
Address: #3, 8/2 Anugraha Complex, 1st E Cross,
20th Main, Maruti Nagar Main Road,
BTM Layout 1st Stage, Bangalore - 560029
Nearby Locations: BTM Layout, Jayanagar, JP Nagar, Koramangala, HSR Layout, Bommanahalli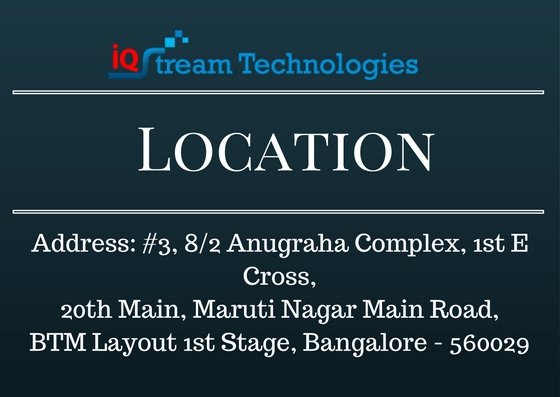 Highlights of Our Informatica Training in Bangalore
- Intensive Practical Training
- Advanced Learning Materials & Tools
- Friendly Classrooms
- Practical Guidance
- Advanced Lab Facility
- Placement Oriented
- Expert and Experienced Trainers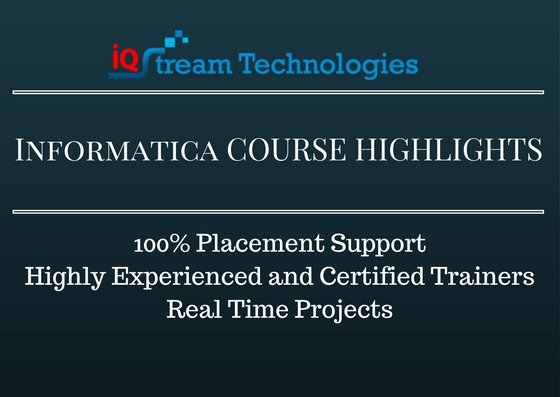 Hadoop Developer Training
DevOps Developer Training
iOS Development
Datascience Training
Python Training
Android Development
MS Excel
Informatica Training Objectives:
Describe the Informatica PowerCenter architecture
Explain Data Integration concepts
Explain different Transformations & their usage
Describe Reusability & Scheduling in Workflow Manager
Understand the use of advanced transformations
Design error handling strategies appropriate for the intended purpose of a workflow
Describe the effect of mapping design on performance
Monitoring the PowerCenter Environment
Understand design principles and best practices
Explain repository manager tool
Illustrate how to create users and groups
Describe the application services related to PowerCenter and their related processes
Configure the Informatica Administrator tool
Implement techniques for loading Dimensional Tables
Recognize & repair Connection Errors & Network errors
Configure Workflow & sessions for recovery
Understand the Performance Tuning Methodology
Learn PowerCenter Repository Maintenance and explain the integration and repository service properties
Illustrate how to create users and groups
Explain command line of Informatica PowerCenter
Informatica Data Quality Training Syllabus: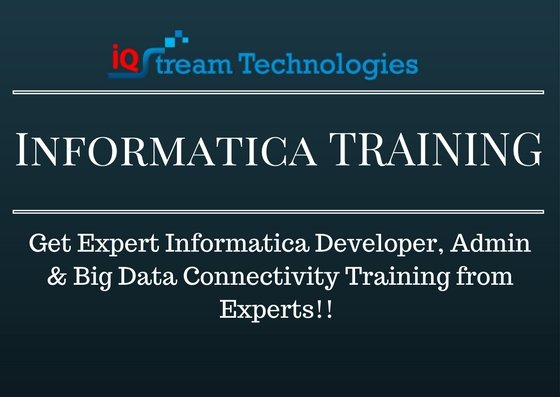 About Informatica
Developed by Informatica Corporation, Informatica Data Quality is a unique kind of Data Quality Management System featuring a suite of applications and components that can integrate well with Informatica PowerCenter. The objective of this platform is to deliver enterprise-strength Data Quality ability across a large number of scenarios. One of the principal advantages of this system is the possibility to solve quality problems in a way achieving real as well as sustainable data quality enhancements. A quality training in Informatica Data Quality can enable candidates proactively monitor and cleanse the data and assist the business in Data Quality and Governance
Recent Updates on Informatica
Informatica Partners with Tableau to Unleash the Power of Data (globenewswire.com)
Informatica Enhances Enterprise-wide Visibility and Control of Critical Sensitive Data (globenewswire.com)
Informatica to Accelerate Microsoft Azure Customer Deployments (http://markets.businessinsider.com)
Informatica AI-Driven Data Catalog and Cloud Data Lakes Power Intelligent Disruption (globenewswire.com)
The Information Difference Recognizes Informatica as Leader in Master Data Management for Fourth Consecutive Year(globenewswire.com)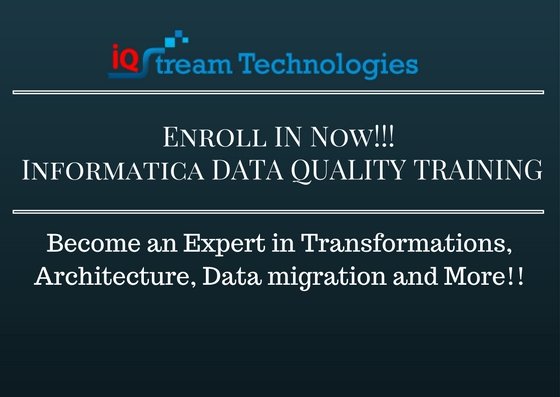 Prereq: Fundamentals of ETL
Module#1 (An Overview of Informatica Developer 9) Overview of Data Quality and Informatica Developer covering areas such as the GUI, Mappings, Mapplets, Transformations, Content Sets, Data Objects and Tips for working with Developer.
Module #2 (Analyst Collaboration)
* Review Information from the Analyst
* Profiles/Comments/Tags
* Create/Add to Reference Tables
* Shared projects and team collaboration means no loss of information or duplication of work across projects
Module #3 (Developer Profiling)
* Perform Join Analysis Profiling
* Perform Column Profiling
* Multi Object Profiling
* Build and execute a Mapping using core transformations
* Configure Transformation Properties
Module #4 (Data Standardization)
* Develop data standardization mapplets and mappings
* Cleanse, transform and parse data
* Data Quality cleansing and parsing transformations
Module #5 (Address Validation)
* Configuring a Reusable AV Transformation
* AV Transformation Properties
* AV Inputs and Outputs
* Define a Reusable AV Mapplet
* Build and address validation mapping to incorporate your mapplet Matching
* Grouping Data
* Key Generator Transformation
* Key Gen Methods and Properties
* Analyze Detail Report
* DQ Matching
* Perform matching using the Match Transformation
* Match Properties
* Matching Algorithms
* Cluster Analysis Report
* Create and update matching Mapplets
Module #6 (Identity Matching)
* Build matching mappings using Identity Matching
* Identity Populations and Strategies
Module #7 (Automatic Consolidation)
* Automatically associate and consolidate your match data using a variety of association and consolidation
* Transformations and techniques Module #8 (Manual Consolidation Using the Data Quality Assistant) * Build mappings to create and populate the DQA tables using the new Exception Transformation Module #9 (PowerCenter Integration) * Execute Data Quality mappings/mapplets in PowerCenter
Module #8 (Manual Consolidation Using the Data Quality Assistant)
* Build mappings to create and populate the DQA tables using the new Exception Transformation
Module #9 (PowerCenter Integration) * Execute Data Quality mappings/mapplets in PowerCenter
Module #9 (PowerCenter Integration)
* Execute Data Quality mappings/mapplets in PowerCenter
Module #10 (Object Import/Export)
* Learn how to export and import projects using both basic and advanced methods
Module #11 (Parameters)
* How to use parameters in Data Quality mappings, transformations and reference tables
Module #12 (Content)
* Content availability with IDQ9
* Content Management Service
* How to configure AV information
* Accelerators
* Core Accelerator

Informatica Training Reviews
IQ Stream Technologies
Rated

5

/5 based on

20

reviews