DataStage Training in Bangalore
IQ Stream Technologies is one of the top IBM InfoSphere DataStage Training institutes in Bangalore with highly experienced and skilled trainers. IBM InfoSphere DataStage offers a superior enterprise ETL (Extract Transform Load)) solution that is part of the IBM Information Platforms Solutions suite and IBM InfoSphere. DataStage supports extended metadata management and ubiquitous enterprise connectivity. DataStage uses a graphical notation to construct data integration solutions. IQ Stream Technologies Bangalore BTM also offers placement assistance for students who enrolled in Advanced IBM DataStage Training Courses. We offer advanced IBM InfoSphere DataStage classes that include IBM DataStage, its Architecture and the features, creating a sample DataStage Job, Aspects of DataStage Parallelism, File storage and Transformer Stage, development, debugging and extraction using Teradata Connector etc and advanced tools for better learning, understanding and experience. We are one of the best quality DataStage Training institutes in Bangalore BTM with highly skilled trainers with most updated and advanced DataStage Training syllabus.
DataStage Training Institute Bangalore BTM
Become an Expert in IBM InfoSphere DataStage with IQ Stream Technologies' advanced DBA learning programmes. Specialties of IBM DataStage are it deploys on-premises or in the cloud, supports big data and Hadoop, enforces workload and business rules, improves enterprise ETL efficiency, provides powerful ETL platform. Main highlights of our IBM DataStage Training include DataStage data integration, ETL, data warehousing, working with data in rest or motion, real life projects, Intensive Practical Training, Advanced Learning Materials & Tools, Friendly Classrooms etc. IQ Stream Technologies offer beginner, intermediate and advanced lessons for you to become an expert in the area.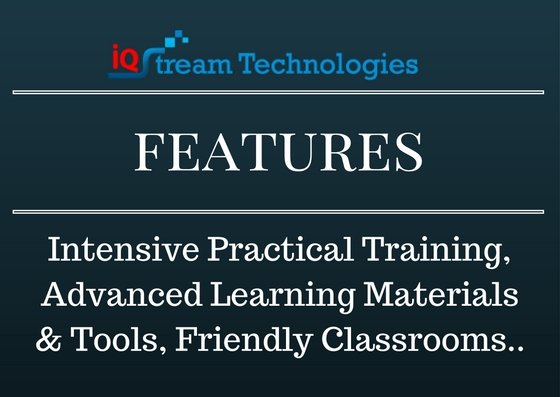 IBM DataStage Training Location:
IQ Stream Technologies IBM DataStage Training Institute Location: BTM Layout, Bangalore
Mobile : +91 8884684156, +91 9620196773
Landline: +91 80 42073645​
Email: info@iqstreamtech.com
Address: #3, 8/2 Anugraha Complex, 1st E Cross,
20th Main, Maruti Nagar Main Road,
BTM Layout 1st Stage, Bangalore - 560029
Nearby Locations: BTM Layout, Jayanagar, JP Nagar, Koramangala, HSR Layout, Bommanahalli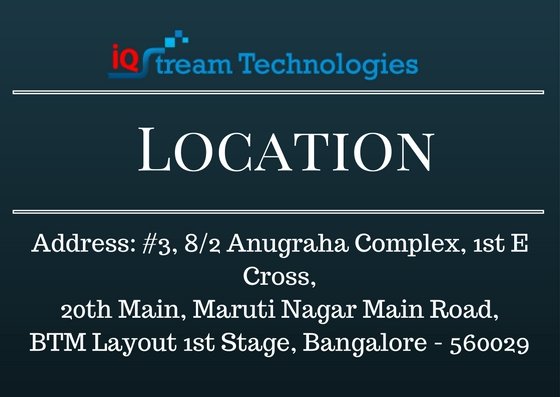 Course Overview:
| | |
| --- | --- |
| Course Name | DataStage Training |
| Venue | IQ Stream Technologies |
| Official URL | DataStage Training |
| Demo Classes | On Demand |
| Training Methodology: | 25% Theory & 75% Practical |
| Course Duration | 40-45 Hours |
| Class Availability | Weekdays & Weekends |
| Demo Training | Email ID : info@iqstreamtech.com |
Highlights of Our DataStage Training in Bangalore:
- Intensive Practical Training
- Advanced Learning Materials & Tools
- Friendly Classrooms
- Practical Guidance
- Advanced Lab Facility
- Placement Oriented
- Expert and Experienced Trainers
DataStage Training Syllabus Overview: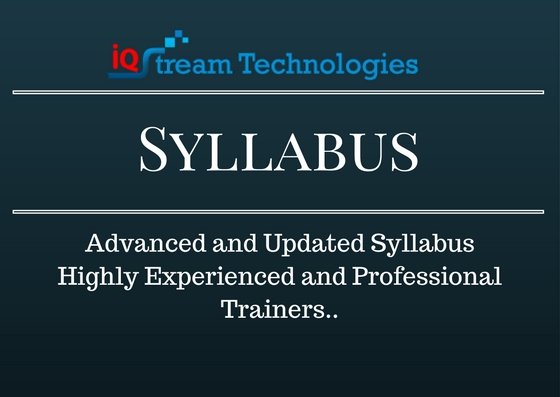 Information Analysis – Data Integration Architect
DataStage Integration Developer – New to DataStage Parallel Jobs
DataStage Integration Developer - New to Information Server
DataStage Units:
Unit 1 - Introduction to DataStage
Unit 2 - Deployment
Unit 3 - DataStage Administration
Unit 4 - Working with Metadata
Unit 5 - Creating Parallel Jobs
Unit 6 - Accessing Sequential Data
Unit 7 - Partitioning and Collecting
Unit 8 - Combining Data
Unit 9 - Group Processing Stages
Unit 10 - Transformer Stage
Unit 11 - Repository Functions
Unit 12 - Working with Relational Data
Unit 13 - Job Control
Unit 14 - Intersecting with Other Information Server Products
Other Related Courses:
Hadoop Developer Training
DevOps Developer Training
iOS Development
Android Development
MS Excel
Datascience Training
Python Training
DataStage Objectives
Describe the uses of DataStage and the DataStage workflow
Describe the Information Server architecture and how DataStage fits within it
Describe the Information Server and DataStage deployment options
Use the Information Server Web Console and the DataStage Administrator client to create DataStage users and to configure the DataStage environment
Import and export DataStage objects to a file
Import table definitions for sequential files and relational tables
Design, compile, run, and monitor DataStage parallel jobs
Design jobs that read and write to sequential files
Describe the DataStage parallel processing architecture
Design jobs that combine data using joins and lookups
Design jobs that sort and aggregate data
Implement complex business logic using the DataStage Transformer stage
Debug DataStage jobs using the DataStage PX Debugger
Read and write to database tables using DataStage ODBC and DB2 Connector stages
Work with the Repository functions such as search and impact analysis
Build job sequences that controls batches of jobs
Understand how FastTrack and Metadata Workbench can be profitably used with DataStage
(Ref: https://www-03.ibm.com/services/learning/ites.wss/zz-en?pageType=course_description&cc=&courseCode=KM202G&gtpcc=ro)

IBM DataStage Training Reviews:
IQ Stream Technologies
Rated

5

/5 based on

20

reviews