Oracle Fusion Financial Training
Bangalore, Delhi, Mumbai, and Chennai
IQ Stream Technologies is one of the top Oracle Fusion Financial Training institutes in Bangalore with highly experienced and skilled trainers. IQST also offers online Fusion Financial Training that help you understand the applications, including Accounting Hub, General Ledger, Payables, Receivables and Revenue Management etc. Our online Financial training courses will teach you how to setup, administer and use the Financials Cloud applications effectively and smartly to make better business decisions - you will be an expert in financial reporting, account monitoring and account inspection. IQ Stream Technologies Bangalore also offers placement assistance for students who enrolled in Advanced Oracle Fusion Financials Training Courses. We offer advanced Oracle Fusion Financial learning experiences like Workspace in Oracle Fusion Financials, Various Roles in Oracle Fusion Applications Security, Use of Multiple Balancing Segments in Fusion General Ledger etc and advanced tools for better learning, understanding and experience. We have Fusion Financials online training available for Bangalore, Delhi, Mumbai, and Chennai students. IQST also offers Corporate Training for Oracle Fusion Financials courses to improve the knowledge and standard of your employees.
We offer following learning format options for the students to learn advanced concepts comfortably: Training on Demand, Classroom Training, Live Virtual Class, Guided Learning
Online Training
Call us on +1 415-529-4858 (USA) OR +91 9071-449-888 (India) to enroll into our Online Fusion Financial Training sessions. IQST offers Oracle Fusion Financial corporate training if your organization wish to train their employees on Oracle Fusion Financial processes and responsibilities. Need flexible Oracle Fusion Financial learning options? Choose from our online or in class Oracle Fusion Financial courses based on your schedule.
Marathahalli, Hebbal, KR Puram, Whitefield
Frequenty Asked Questions (FAQ)
Syllabus
Expert Fusion Financial Training Institute in Bangalore
Become and Expert in Oracle Fusion Financial with IQ Stream Technologies' advanced Fusion Cloud learning programmes. Main highlights of our Oracle Fusion HCM Training in Bangalore (BTM Layout), Delhi, Mumbai, and Chennai are highly experienced trainers with advanced syllabus - Overview of Oracle Fusion Middleware, Evolution of ERP, Overview of Cloud, Oracle Fusion Applications, Oracle Fusion Application Architecture, All the modules of Fusion Financials, Intensive Practical Training, Advanced Learning Materials & Tools, Friendly Classrooms, World class online infrastructure, hands-on labs, real-world tasks etc. IQ Stream Technologies offer beginner, intermediate and advanced lessons for you to become an expert in the area. The training includes Fusion Financials functional and also technical tools available on Fusion Finacials Cloud. Oracle has moved most of the configuration and implementation tasks in Fusion Finacials to UI as there is a limitation on the level technical customization over cloud. Hence, the Fusion Finacials training and Fusion Finacials online training at IQ Stream Technolgoies includes Functional and Technical. You will be given access to Oracle Fusion Finacials Cloud instance during the course and you can access it over the internet from any where for practices. We will also help you out on understanding the real life process on Fusion Finacials Consulting aspects, Preparation of Resume, Mock Interviews and whatever the help you need to leverage your current experience and learning from training to get on to your next move in your career... Special Fusion Financials corporate training also delivering at IQ Stream Technologies, Bangalore location.
Also in: Marathahalli, Hebbal, KR Puram, Whitefield
Request Fusion Financials Training Online Demo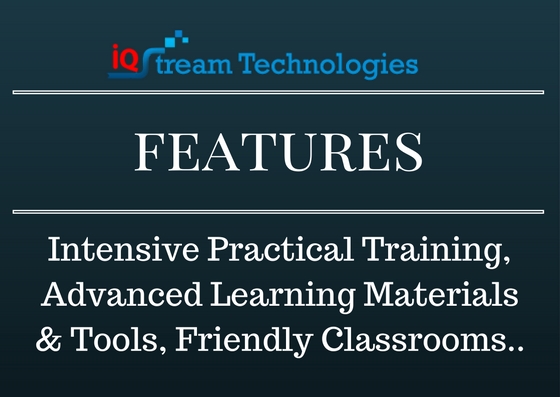 Course Overview:
| | |
| --- | --- |
| Course Name | Oracle Fusion Financial Training |
| Venue | IQ Stream Technologies |
| Official URL | Oracle Fusion Financial Training |
| Demo Classes | On Demand |
| Training Methodology: | 25% Theory & 75% Practical |
| Course Duration | 40-45 Hours |
| Class Availability | Weekdays & Weekends |
| Demo Training | Email ID : info@iqstreamtech.com |
5 Star Reviews & Ratings
Reviewed By: Tharani Dharan
Reviewed Date: March, 2018
I took Fusion HCM training at IQ Stream Technologies.They have good teaching staff like Mr.Sachin and Bhaskar. The management is very professional and helpful, Affordable fees and quality courses offered.
Reviewed By: Zaki
Reviewed Date: March, 2018
I attended the Oracle Cloud Fusion session in IQ Stream Technologies. Sachin is the Trainer and the Training was good. The trainer explained the fundamental concepts very clearly and showed the roadmap of how to independently explore deeper into details.
Reviewed By: Naresh Bogavaram
Reviewed Date: March, 2018
The best thing i like at IQ stream is the personalized care that the trainers take to make me understand concepts well. The experienced trainers make it easy to learn.
Nearby Locations: BTM Layout, Jayanagar, JP Nagar, Koramangala, HSR Layout, Bommanahalli
Related Courses
Notes
• There will be theory, demo, assignments on every topic.
• A lot of focus will be put for getting hands-on practice.
• As part of the course, an end-to-end project will be done by the students.
Fusion Financials Training Syllabus
Introduction
• Introduction to ERP
• Basic Accounting
• Financial Statements
• Case Study and Financial Business Processes
• Introduction to Oracle Fusion Financials
Introduction to Oracle Cloud
SAAS, PAAS and IAAS Overview Oracle Financials Cloud Capabilities: Overview Navigation Basics Resources
Overview of Implementing Oracle Fusion Financials
• Overview of the Functional Setup Manage
• Implementation Overview
• Browsing and Configuring Offerings
Fusion Security Overview
• Security Overview
• Create a User
• Create an Employee
Enterprise Structure Overview • Walkthrough on Enterprise Structure • Differentiate E-Business Suite and Cloud Org Structure • Business Unit Overview • Business Unit Implementation Configuring Oracle Fusion General Ledger • Define Chart of Account
• Define Calendar
• Define Ledgers
• Define Security – Assign Roles
• Open the Accounting Period and test GL setup
Configuring Oracle Accounts Payables • Creating Business Units
• Create Bank Accounts
• Configure Common Options for Payables and Procurement
• Configure
• Invoice Options
• Payments Options
• Payment Terms
• Payment Documents
• Payment Process Profiles
• Distributions Sets
• Create Procurement Agents
• Define Security for Payables – Assign Roles
• Test Payables setup
• Create Supplier
• Create Payables Invoice and run Create Accounting Job
• Make a Payment
• View Accounting
Configuring Oracle Accounts Receivables • Receivables System Options
• Receivables Activities
• AutoAccounting Rules
• Transactions Types
• Transactions Sources
• Remit-to- Address
• Banks
• Receipt Sources
• Test AR Setup
• Create Customer
• Create Invoice
• Create Receipt
• Run Create Accounting and Post to GL
Fusion Cash Management • Banks Creation
• Bank Statements and Reconciliation
Fusion Assets Fusion Tax Management Fusion Expenses Management Fusion Budgeting Technical Topics • Flexfields (DFF, KFF, EFF)
• Reference Data Sets
• Oracle Transaction Business Intelligence (OTBI)
• File Based Data Import
• ADF Desktop Integration (ADF DI)
FAQ What is ERP? Is Oracle Fusion Financials an ERP? What kind of role can I expect after I learn Oracle Fusion Financials? What is Oracle Fusion Middleware? How is Oracle Fusion Apps different from Oracle Applications (E-Business suite)? Do I need to know Java to work in Fusion Apps? I am Oracle Apps Technical Consultant. Is Fusion Financials a right choice? I am Oracle Apps Finance Functional Consultant. Is Fusion Financials a right choice? I am Oracle Apps Financials Techno Functional Consultant. Is Fusion Financials a right choice? I am from Oracle Apps and  I don't want to move to Fusion Financials Functional. What is the alternate in Oracle Fusion Apps? What is all about Fusion Cloud? Do I need to learn Cloud to work with Fusion Financials? Am I learning Cloud as part of this training? I am an Accountant executive and not from technical background. Is Fusion Financials a right choice? I am MBA graduate with Finance specialization. Is Fusion Financials a right choice? I am an engineering graduate. Is Fusion Financials a right choice? How long Fusion Financials technology will sustain? There is a buzz about Machine Learning and AI. What is the future for Oracle Fusion Financials? Will I get a job after the Oracle Fusion Financials training? Will I get access to Fusion Financials Cloud instance? Will I get help on preparation for Certification? Will I get help on preparation for Interviews? What is the duration of the training? What is the course fee? What is ERP? ERP (Enterprise Resource Planning) is a one stop solution for automating operations of any business enterprise. A business organization needs to deal with various functions related to human resources, finance & accounting, supply chain management, customer relationship management, project portfolio management and so on. All such functional areas need to collaborate and work in an integrated manner to run the business effectively and take right decisions for current and future. ERP provides a software solution to achieve it. ERP is a software product developed by one software vendor with generic features and several software companies build practice teams to implement such ERP products to the enterprises. Implementation and customization is usually done by either Oracle or other software companies like Infosys, Wipro, Capgemni, Accenture and many other small, medium and large software services organizations. Is Oracle Fusion Financials an ERP? Yes, Oracle Fusion Financials is the latest ERP solution from Oracle, offered through Cloud. What kind of role can I expect after I learn Oracle Fusion Financials? You will have an opportunity to be part of a team of Oracle Fusion Financials implementation and customization practice teams in software companies like Infosys, Wipro, Capgemni, Accenture, Oracle and many other small, medium and large software services organizations. The consultants are usually called Oracle Fusion Financials functional consultants. What is Oracle Fusion Middleware? Oracle Fusion Middleware (FMW) is a technology stack that provides vital technical modules/frameworks/tools required to develop a large web based enterprise applications like an ERP system. The technology is built based on several industry standards like Java, JEE, SOA, Business Analytics, Security etc., Fusion Middleware primarily comprises of ADF (JEE based framework to develop a web based application using MVC architecture), SOA (Integration, that is required to collaborate among modules of an application, expose interfaces to outside world and consume services from outside world), OBIEE (Reporting framework, very much required in any enterprise solution), OIM (Security, a critical need for any application). All these are run on world class application server, Weblogic Server. The server provides run time environment for all the modules. Oracle built new generation of ERP, Oracle Fusion Apps, using Oracle Fusion Middleware technology stack. How is Oracle Fusion Apps different from Oracle Applications (E-Business suite)? Oracle Applications was primarily based on database technologies and one needs to deal with RDBMS, SQL and PL/SQL technologies to work with Oracle Applications. It's majorly available as on-premise solution and it is in the market almost for last 20 years. Usually implementation of Oracle Applications needs considerable technical expertise. Fusion Apps are built on FMW. In addition to that, Fusion Apps has greatly improved functionally and technically over its predecessor (E-Business Suite). Oracle has pushed the best of all its ERP solutions like E-Business Suite, Peoplesoft, JDEdwards etc., into Fusion Apps ERP product. It is a cloud based offering and implementation of Fusion Financials is majorly job of a functional consultant with minimal technical expertise.  Do I need to know Java to work in Fusion Apps? No, Java is not required to work with Fusion Apps. Most of the implementation tasks are functional and can be achieved through Fusion Apps user interface and configuration tools. Only dedicated technical people who want to work in the technologies like ADF should be aware of Java. I am Oracle Apps Technical Consultant. Is Fusion Financials a right choice? Yes, Fusion Financials implementation is majorly driven by functional tasks unlike one needs to be technical for implementation of Oracle Apps. Hence, it makes a lot of sense to move to Oracle Fusion Financials. Particularly this training provides functional,technical and cloud aspects of Oracle Fusion Financials. I am Oracle Apps Finance Functional Consultant. Is Fusion Financials a right choice? Yes, that would be a perfect match. Fusion Financials implementation is majorly driven by functional tasks which is a bit different from implementation of Oracle Apps. Hence, it makes a lot of sense to learn Oracle Fusion Financials. Particularly this training provides functional,technical and cloud aspects of Oracle Fusion Financials. I am Oracle Apps Finance Techno Functional Consultant. Is Fusion Financials a right choice? Yes, that would be a good match. Fusion Financials implementation is majorly driven by functional tasks which is a bit different from implementation of Oracle Apps. Hence, it makes a lot of sense to learn Oracle Fusion Financials. Particularly this training provides functional,technical and cloud aspects of Oracle Fusion Financials. I am from Oracle Apps and  I don't want to move to Financials Functional. What is the alternate in Oracle Fusion Apps? You can consider Oracle Fusion Technical. That course covers Oracle ADF, Oracle SOA, Fusion Technical. What is all about Fusion Cloud? Do I need to learn Cloud to work with Fusion Financials? Fusion Financials is available only as Cloud offering from Oracle. You do not need to learn Cloud separately. This training provides functional,technical and cloud aspects of Fusion Financials. Am I learning Cloud as part of this training? Yes. Fusion Financials is available only as Cloud offering from Oracle. You do not need to learn Cloud separately. This training provides functional,technical and cloud aspects of Fusion Financials. I am an Accountant executive and not from technical background. Is Fusion Financials a right choice? Yes, Fusion Financials implementation is majorly driven by functional tasks. That is one of the primary improvements over its predecessor, Oracle Apps. Since you have Finance and Accounting functional experience, that would be added advantgae while learning and working with Fusion Financials. You need to capitalize on your functional experience and leverage that during your interviews too. You should learn Fusion Financials product and also understand the process followed in implementation, which is missing in your present job. This will be taught as part of the training. I am MBA graduate with Finance specialization. Is Fusion Financials a right choice? Yes, Fusion Financials implementation is majorly driven by functional tasks. That is one of the primary improvements over its predecessor, Oracle Apps. Since you have finance functional knowledge through your MBA experience, that would be added advantage while learning and working with Fusion Financials. You need to capitalize on your functional knowledge and leverage that during your interviews too. You should learn Fusion Financials product and also understand the process followed in implementation. This will be taught as part of the training. I am an engineering graduate. Is Fusion Financials a right choice? If you are an engineering graduate, you can go to any area. Fusion Financials is about Finance and Accounting functionality in the business. It would be easier to build career in Fusion financials if you have some kind of finance/accounting background though the course also covers those topics before moving to the fusion product. You might also check Fusion http://www.iqstreamtech.com/fusion-hcm-training.php is a bit easier to understand from functionality point of view for non acconting background people. However, There are very few Oracle Fusion experts in the market and several openings are available. Hence, it is expected to have less competition when you go for interviews and of course this will be a long sustained career. You need to learn Fusion Financials product, primarily functional, to start with and you may also consider enhancing your scope by learning more technical areas like ADF, SOA in future after you land in a job. How long Fusion Financials technology will sustain? Fusion Financials is part an ERP solution offered by world leading company Oracle. We believe, it is also vital for Oracle, as a business strategy, to make Fusion Apps successful and sustainable solution to be as market leader. Oracle Apps predecessor of Fusion Apps is in the market for last 20 years and a lot of business took place in the industry based on that product. According to the trend, it's obvious that Oracle is focusing on Fusion Apps and recommending the clients to up take Fusion Apps. Hence, we believe, Fusion Apps will be there in the market for several years. We believe, Oracle will be adding more and more feature and make it sustainable. There is a buzz about Machine Learning and AI. What is the future for Oracle Fusion Financials? Machine learning and AI are not competitors for Oracle Fusion Apps/Financials. They are technical solutions that can be consumed by any product. Probably, Oracle will only try to leverage those technologies to make Fusion Apps smarter in future. You will be part of that journey being a Fusion Financials consultant. Will I get a job after the Oracle Fusion Financials training? Oracle Fusion Financials is new in the market and this is an ERP product offered on cloud by industry leading company Oracle. There are very few people in the market and several openings. Hence, it is expected to have less competition when you go for interviews. Hence, it should be easier to get a job in Fusion Financials. We will also refer your profile. We are there to provide all kind of assistance for your interview preparation. Will I get access to Fusion Financials Cloud instance? Yes. Will I get help on preparation for Certification? Yes, the topics covered in the training would include almost all the topics related to certification. You should spend some dedicated time once after the training is over to prepare for the certification. You need to buy a voucher to appear for the certification offered by Oracle. Will I get help on preparation for Interviews? Yes. There will be discussion on interview preparation. Course also includes a final workshop session to revise all the topics, discuss on interview questions, certain assignments. What is the duration of the training? The course will be completed within 45 days to 60 days based on the what kind of schedules is chosen by you. If your requirement is different, we also provide custom fast track course. What is the course fee? Please contact IQ Stream Technologies for details on the fee. Fusion Financial Training Reviews

IQ Stream Technologies

Rated

5

/5 based on

20

reviews