Android App Development Training in Bangalore
Learn Android App Development with Android 7 Nougat by building real apps!
Highlights of Android App Course!
Make any Android application you like!
Become a professional Android app developer, you can take freelance gigs and work from anywhere in the world!
Develop and Submit your Android apps to
Google Play
and generate revenue with Google Ads!
Apply for a new job in a reputed software company as an Android Application Developer
IQ Stream Technologies is one of the top Android Application Development training institutes in Bangalore with highly experienced and skilled trainers. IQ Stream Technologies Bangalore BTM Layout also offers placement assistance for students who enrolled in Android Mobile Application Development Courses. We offer advanced Android App Development classes, Android OS learning experiences and advanced tools for better learning, understanding and experience. We offer top quality Android training classes with great placement support and advanced syllabus. Enroll in our advanced Android Training Programmes and become an expert in Android Application Development. IQ Stream Technologies offer high quality Android Mobile App Development Training with hands-on training, advanced lab classes, Real Time Projects and much more.
Expert Android App Training Institute
Become and Expert in Android Application Development (Andriod OS & Mobile Apps Development) with IQ Stream Technologies' advanced Andriod learning programmes. Main highlights of our Andriod Developer Training in Bangalore (BTM Layout - Byrasandra, Thavarekere and Madiwala Layout - Kuvempunagara) include Android Architecture, Deep Overview in Android Stack, Advanced Android Features, Maps & Geolocation, – Permanent Data Storage, Instagram Clone, studio essential training, Installing Android Machine, Android Components, Android Resources and Assets, Intensive Practical Training, Advanced Learning Materials & Tools, Friendly Classrooms etc. IQ Stream Technologies offer beginner, intermediate and advanced lessons for you to become an expert in the area.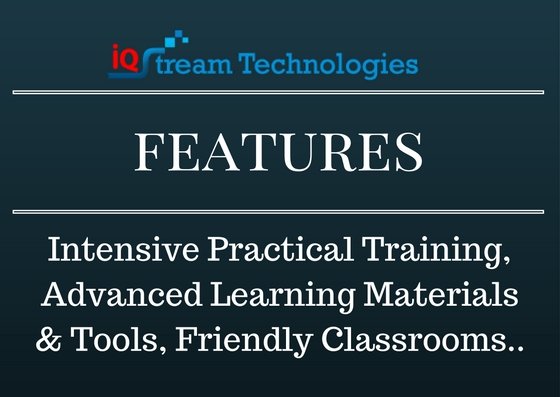 Android Training Location at BTM:
IQ Stream Technologies Android Training Institute Location: BTM Layout, Bangalore
Mobile : +91 9620196773, +91 8884684156
Landline: +91 80 42073645​
Email: info@iqstreamtech.com
Address: #3, 8/2 Anugraha Complex, 1st E Cross,
20th Main, Maruti Nagar Main Road,
BTM Layout 1st Stage, Bangalore - 560029
Nearby Locations: BTM Layout, Jayanagar, JP Nagar, Koramangala, HSR Layout, Bommanahalli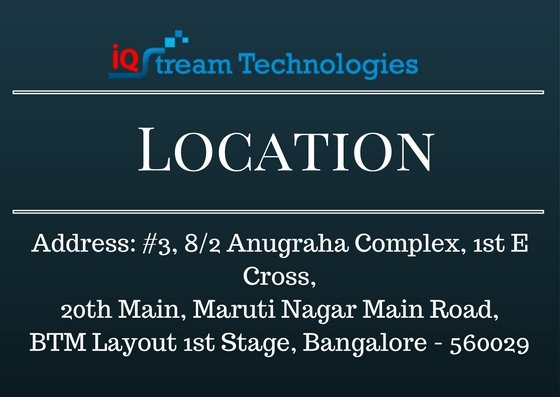 Highlights of Our Training
- Intensive Practical Training
- Advanced Learning Materials & Tools
- Friendly Classrooms
- Practical Guidance
- Advanced Lab Facility
- Placement Oriented
- Expert and Experienced Trainers
Objectives:
Become proficient in Android app development and pass the Associate Android Developer (AAD) Exam conducted by Google
Gain a thorough understanding of Android architecture
Build and publish your own Android apps in the Google Play store
Achieve expertise on app development for Android wearable devices
Other Related Courses:
iOS Training
Selenium Training
Excel Training
SQL Training
PLSQL Training
Datascience Training
Python Training
Syllabus: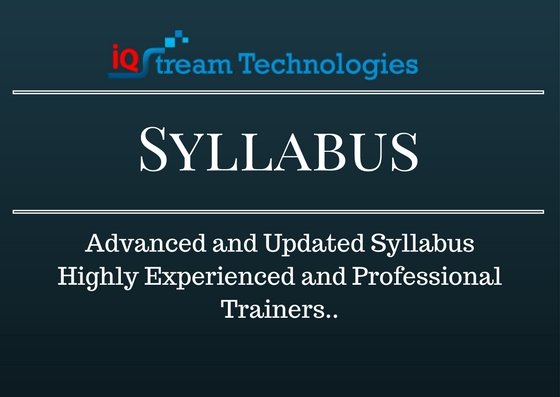 Introduction To Mobile Apps
Different Kinds of Mobile Apps
Introduction to Android
History of Android Development - What you need to learn before Android
Android Architecture
Android Stack - Android Features - Introduction to OS layers ✓ Introduction.
✓ Android Architecture and ADK
Deep Overview in Android Stack
Linux Kernel - Libraries - Android Runtime - Application Framework - Dalvik VM
Installing Android Machine
Configuring Android Stack - Setting up Android Studio - Working with Android Studio - Using Older Android Tools
Java Fundamentals
OOPS basics
Classes & Objects
Components of a Class
Structure of a Class & Java File
Inheritance
Interfaces
Abstract Class
Polymorphism
Overloading
Overriding
Android Architecture
Significance of Android Project Structure
Source Folder
Generated Folder
Assets folder
Resources folder
Android Manifest XML
Android Application Components
Activities & Fragments
Activity Life Cycle
Activity – How to create your activity
Android Layouts
Layout XML files
Absolute Layout
Relative Layout
Linear Layout
Frame Layout
Tab Layout
Table Layout
List Layout (List View)
Android Views & Widgets
Button View
EditText View
TextView View
Image View
Spinner
Menus & Messages
Adding option menus
Adding popup menus
Showing dialogs
Raising toasts
Intent & Intent Filters
Intents – How and When to use them
Intent Objects – Action, Data & Category
Intent Filters – Matching Rules / Tests
Explicit Intent & Implicit Intent
Services
Lifecycle of a Service
When to use Services
Main Application Threads & Worker Threads
Intent Service
Broadcast Receivers
Broadcast Receivers
Listening for specified broadcasts
System broadcasts
Custom & User defined broadcasts
Sticky Broadcasts
Pending Intents
SQLite
Introducing SQLite
SQLiteOpenHelper and creating a database
Opening and closing a database
Working with cursors
Inserts, updates, and deletes
External Database Communication
Introduction to JSON file formats
Using Web Services to connect to remote DB
Significance of AsyncTask class
Use JSON for data communication to Web Services
Fetching data from JSON & loading into Activities
Creating First Android Application
Creating Android Project - Debugging Application through DDMS - Setting up environment - AVD Creation - Executing Project on Android Screen
Android Components
Hello World App
Building UI with Activities
Advanced UI
Multithreading
Styles And Themes
Android Resources and Assets
Intent, Intent Filters and Broadcast Receivers
Introducing SQLite
Multimedia in Android
Location Based Services and Google Maps
Web Services and WebView
Android and WiFi
Telephony Services
Android Application Deployment on device with Linux and Windows
Android Application Deployment on Android Market
Project Work
✓ Developing an end-to-end realtime Android Applicationc

Android Training Reviews
IQ Stream Technologies
Rated

5

/5 based on

20

reviews