Salesforce Developer Training in Bangalore
IQ Stream Technologies is one of the top Salesforce Development training institutes in Bangalore with highly experienced and skilled trainers. Salesforce.com is a number one on demand CRM (Customer Relationship Management) in the market by Salesforce.com (SFDC) that uses cloud computing technology. IQ Stream Technologies Bangalore also offers placement assistance for students who enrolled in Advanced Salesforce CRM Administration & Development Training Courses. We offer advanced Salesforce Development classes, Salesforce apex, Salesforce exception handling, cloud computing, Model View Controller learning experiences, excellent classroom ambience, and tools for better learning, understanding and experience in Bangalore BTM area. We are one of the best quality institutes for Salesforce training in Bangalore BTM with specialized learning approach, most updated and advanced syllabus, professionally trained trainers.
Expert Salesforce Training Institute
Become and Expert in Salesforce CRM Administration & Development with IQ Stream Technologies' advanced SQL learning programmes. Main highlights of our Salesforce Development Training in Bangalore (BTM Layout) include Configuration and Customization to develop salesforce application, Visualforce markup language, Apex programming, How to load data into Salesforce objects, Sandbox and Metadata Migrations or Deployments in Salesforce, Salesforce apex, Salesforce exception handling, Intensive Practical Training, Advanced Learning Materials & Tools, Friendly Classrooms etc. IQ Stream Technologies offer beginner, intermediate and advanced lessons for you to become an expert in the area.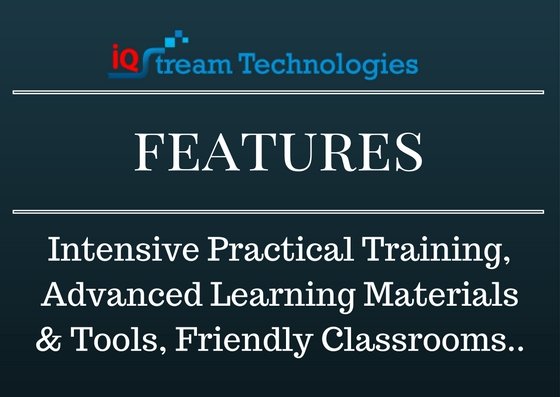 Salesforce Training Location:
IQ Stream Technologies Salesforce Development Training Institute Location: BTM Layout, Bangalore
Mobile : +91 8884684156, +91 9620196773
Landline: +91 80 42073645​
Email: info@iqstreamtech.com
Address: #3, 8/2 Anugraha Complex, 1st E Cross,
20th Main, Maruti Nagar Main Road,
BTM Layout 1st Stage, Bangalore - 560029
Nearby Locations: BTM Layout, Jayanagar, JP Nagar, Koramangala, HSR Layout, Bommanahalli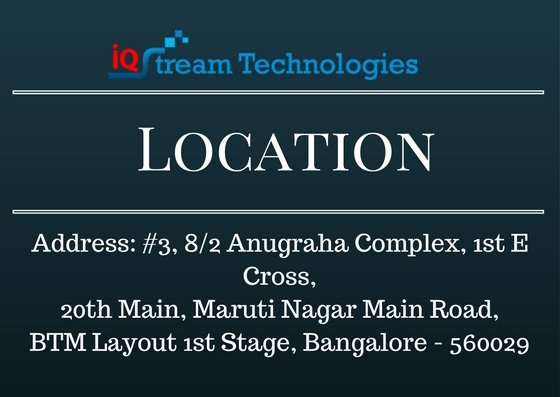 Highlights of Our Salesforce Training in Bangalore
- Intensive Practical Training
- Advanced Learning Materials & Tools
- Friendly Classrooms
- Practical Guidance
- Advanced Lab Facility
- Placement Oriented
- Expert and Experienced Trainers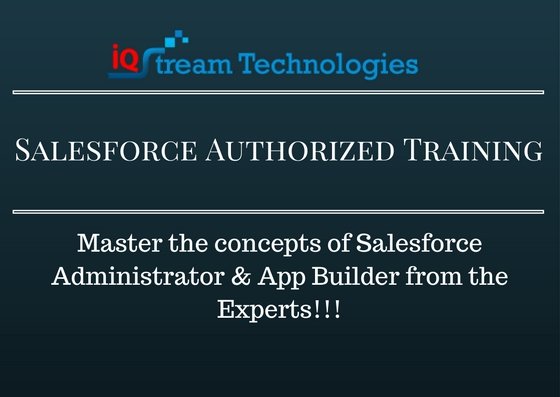 Salesforce Training Objectives:
Configure and manage Sales and Service Cloud
Gain insight into each of the functional user groups (Inside Sales, Outside Sales, Marketing, Customer Support, and Management)
Implement automation, security, debugging, data validation, and customize apps
Deploy applications and manage changes on the Force.com platform
Develop new applications using the declarative interface and Force.com fundamentals
Configure the user interface
Other Related Courses:
Live Informatica Data Quality Training
IBM DataStage Training
ETL Testing Training
Microsoft .Net Training
Hadoop Developer Training
SALESFORCE DEVELOPMENT SYLLABUS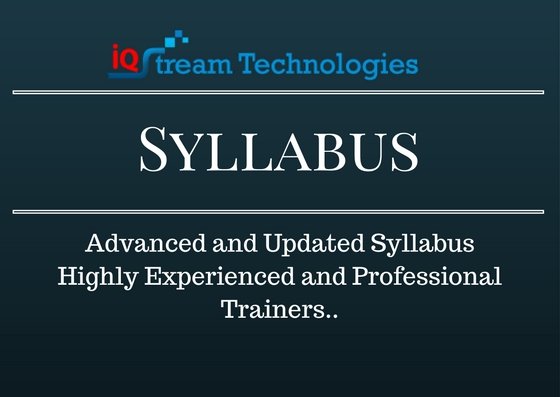 Salesforce CRM Overview
Salesforce Architecture
Cloud Computing Overview & Architecture Introduction to Force.com Platform (PaaS)
Advanced Configuration
Application Elements (Tabs, App, Links, Home Page Component) Salesforce Building Blocks & Configuration Object Page Layouts Related List . Fields . Buttons . Formula Fields . Relationships . Workflow Rules & Approval Processes
Personal Customization
Introduction to oops concepts
Apex Development Building Blocks
Apex Trigger Apex Classes Visual force Pages Developer console SOQL SOSL Developer Console Debugging System Log
Apex Triggers
Trigger Events Bulk Trigger Order of Execution
Apex Programming
Introduction to Apex Language Constructs Classes, Objects, and Interfaces Dynamic Apex Batch Apex SOQL & SOSL Email API Debugging Writing Apex Classes as Web Services Invoking Callouts Using Apex Deploying Apex
Apex Test Classes
Visual force Development
Introduction to Apex Introduction to Visual force Standard Controllers Standard List Controllers Controllers and Controller Extensions Overriding Buttons, Links, and Tabs with Visual force Components Dynamic Visual force Bindings & Components Integrating Email with Visual force Visual force Charting
Introduction to Force.com Platform :
Registering Developer Edition with Salesforce Admin.com
Standard applications
Standard Tabs
Standard Objects and relationships, Links
Setup page – Personal Setup, Application Setup and Administration Setup
Personal Setup :
Personal Information
Change Password
Reset my security Token
Change My Display
Grant Login Access
Calendar Access
Reminders
Email Settings
Designing Applications on Force.com – I :
Creating new application
Creating Custom objects
Creating Tabs – Custom Tabs, Web tabs
Adding text ,Currency, Checkbox, Date fields
Creating Picklists
Field Dependencies
Designing Applications on Force.com – II :
Encrypted fields, field help, and field history tracking
Use master detail, lookup, and many-to-many Relationships
Custom button and links Creation
Rollup Summary field
Designing Applications on Force.com – III :
Develop custom formulas
Validation Rules – Creating rule by applying formulas
Payelayouts – Payelayout Editor,Grouping fields into New Section, adding spece between Fields, Editing Field properties
Search Layouts
Designing Applications on Force.com – IV :
Email Alerts – Email templates
Tasks
Field Updates – Queues and Time Dependent Workflow Actions
Designing Applications on Force.com – V :
Create an Email template for approvals
Create an Approval Process
Create a Custom Profile
Create User
Test the Approval Process
Introduction to programming terminology
OOP's Concepts
Introduction to Apex
Collections
Custom labels and Custom Settings
Exception Handling
Apex Triggers
Triggers and Order of execution
Asynchronous processes
Introduction to Visualforce
Controllers
Visualforce Components
rendered, rerender and renderAs
Wrapper Classes
Visualforce Pagination
Test Classes and Apex Code Coverage
Apex Best Practices
Salesforce Advanced Development
Dynamic Apex
Integration using SOAP and REST API's

Salesforce Development Training Reviews
IQ Stream Technologies
Rated

5

/5 based on

20

reviews