DBA Training in Bangalore
This page has details on Oracle DBA 12C Training. Please contact us if you are looking for Oracle DBA 11gR1 or 11gR2. The course contents are different for those versions.
IQ Stream Technologies
is one of the top Oracle DBA Training institutes in Bangalore with highly experienced and skilled trainers. IQ Stream Technologies Bangalore also offers placement assistance for students who enrolled in Advanced Oracle DBA (Database Administrator) Training Courses. Our DBA (Database Administrator) course includes Introduction to Oracle Dba, Roles & Responsibilities of DBA, Oracle Architecture, Physical and Logical Phase of Database, Types of files (Control file, Redolog file and Datafile), SGA(System Global Area) and Background Process, database creation, tablespace management, storage parameters, user management, undo management, spfile, networking in oracle, Tnsnames.ora, redo-log & controlfile management, logical backup, physical backup, performance tuning, etc. We offer advanced Oracle DBA, MS SQL Server, Big Data learning experiences and advanced tools and high tech classrooms with labs for better learning, understanding and experience.We also offer online Oracle DBA training classes in Bangalore BTM area. IQ Stream Technologies are the experts in offering top quality classes for SQL Server DBA, Oracle Apps DBA, DB2 DBA, Sybase DBA, MySQL DBA training and certification with placement support.
DBA Training Institute Bangalore BTM
Become and Expert in Oracle DBA, MS SQL Server, Big Data, SQL DBA Clustering and AAG with IQ Stream Technologies' advanced Database Administrator DBA learning programmes. Main highlights of our Oracle DBA Training in Bangalore (BTM Layout) include Free Live Server Access, Intensive Practical Training, Advanced Learning Materials & Tools, Friendly Classrooms etc. IQ Stream Technologies offer beginner, intermediate and advanced lessons for you to become an expert in the area. Enroll in now and become a certified DBA expert with IQ Stream Technologies Bangalore.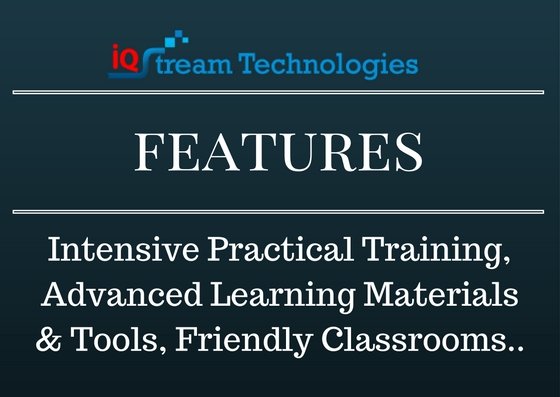 Oracle DBA Training Location:
IQ Stream Technologies Oracle DBA Training Institute Location: BTM Layout, Bangalore
Mobile : +91 9620196773, +91 8884684156
Landline: +91 80 42073645​
Email: info@iqstreamtech.com
Address: #3, 8/2 Anugraha Complex, 1st E Cross,
20th Main, Maruti Nagar Main Road,
BTM Layout 1st Stage, Bangalore - 560029
Nearby Locations: BTM Layout, Jayanagar, JP Nagar, Koramangala, HSR Layout, Bommanahalli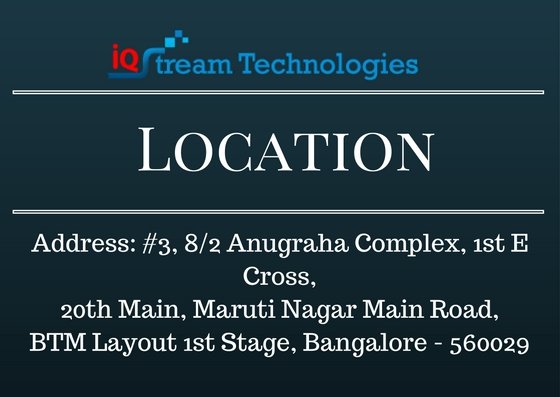 Course Overview:
| | |
| --- | --- |
| Course Name | DBA Training |
| Venue | IQ Stream Technologies |
| Official URL | DBA Training |
| Demo Classes | On Demand |
| Training Methodology: | 25% Theory & 75% Practical |
| Course Duration | 40-45 Hours |
| Class Availability | Weekdays & Weekends |
| Demo Training | Email ID : info@iqstreamtech.com |
Highlights of Our DBA Training in Bangalore:
- Intensive Practical Training
- Advanced Learning Materials & Tools
- Friendly Classrooms
- Practical Guidance
- Advanced Lab Facility
- Placement Oriented
- Expert and Experienced Trainers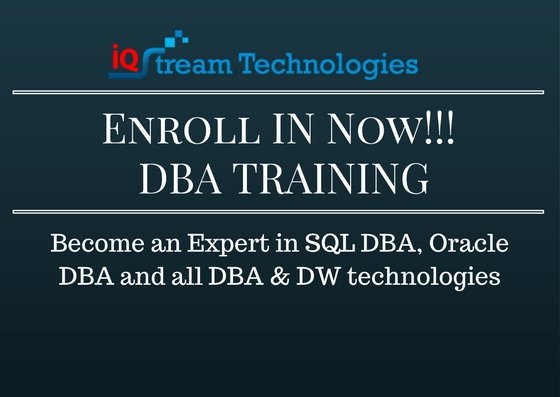 Recent Updates on DBA:
How to Run and Manage Cross Platform Database Environments (dbta.com)
Oracle's automated database is a minimum viable release - analyst (theregister.co.uk)
Oracle Unveils World's First Autonomous Database Cloud (prnewswire.com)
Oracle touts advanced machine learning, Oracle 18c automation (techtarget.com)
Database as a Service: An IT Strategic Direction (databasejournal.com)
Oracle DBA Training Modules: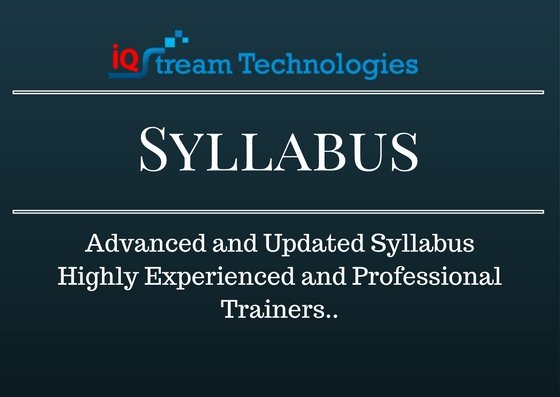 Overview
This practical Oracle 12c course is designed to provide database administrators practical experience in administering, monitoring, tuning and troubleshooting. You will gain an understanding of the architecture and processes of the Oracle database server and will be able to ensure the integrity and availability of a company's data within the Oracle environment. The course also covers monitoring the performance of the database, how to use the Resource Manager to allocate resources and Schedule jobs.
INTRODUCTION TO ORACLE DATABASE 12c
Overview of the Oracle Database 12c and the Oracle Cloud Relational database concepts Database administration tasks
ARCHITECTURE
Overview of the Oracle database architecture The Oracle database instance Oracle Database memory structures Process architecture and structures Server and client processes The Oracle database storage architecture Connect to the Oracle database instance
Basics of Multitenant Container Database (CDB)
Benefits of the multitenant architecture Differences between the root container and pluggable database containers Structure of the root Structure of Pluggable Database (PDB) CDB_xxx and DBA_xxx views
Configuring and Creating CDB and PDBs
Tools: DBCA and SQL*Plus Configuration and creation of CDB Exploring the Structure (CDB_xxx views and EM) Tools used: SQL Developer, DBCA and SQL*Plus and EM Database Express Create a new PDB from PDB$SEED Create a PDB from a non-CDB Clone a PDB into the same CDB or into another CDB using DB links Plug in an unplugged PDB
Managing CDB and PDBs
Connect to CDB as administrator Connect to a PDB using a service name Start up a CDB Open / Close a PDB Open / Close all PDBs Shut down a CDB Preserve or discard the PDBs open mode when the CDB restarts Change PDB state
ADMINISTER A DATABASE INSTANCE
Administrative tools available to a DBA Use SQL*Plus in Oracle to manage a database instance Use SQL Developer to manage a database instance Administer the database using Enterprise Manager (EM) Overview of the Enterprise Manager framework Access Enterprise Manager Database Express The Enterprise Manager Database Express Home Page Initialization parameter files
CONFIGURE THE NETWORK ENVIRONMENT
Overview of network configuration Oracle Net Listener configuration and management Oracle Net naming methods Tools for configuring and managing the Oracle network Using the Net Configuration Assistant Configure client connections with Net Manager View listener configuration Start and stop the Oracle listener Use TNSPING to test Oracle Net connectivity Connect to the database Configure Net Services with Enterprise Manager
STORAGE STRUCTURES
Overview of data storage The database block Overview of tablespaces and datafiles Use Enterprise Manager to view the storage structure of the database Create and alter tablespace commands Temporary tablespaces Create and manage datafiles Use OMF Drop tablespaces and datafiles
MANAGE USERS
Predefined database administration accounts User accounts Create a user account User authentication Change a user's password Manage a user account Drop a user account Monitor user information Terminate user sessions
MANAGE PROFILES AND RESOURCES
Overview of user profiles Profile resource parameters Create profile command Manage passwords with profiles Control resource usage with profiles Maintain profiles
MANAGE PRIVILEGES
Database access Oracle supplied roles System and object level privileges The grant and revoke commands Create, modify and drop roles Use predefined roles
DATABASE AUDITING
Overview of database security Overview of database auditing Security compliance Standard auditing Unified audit trail Separation of audit responsibilities with the
DATA CONCURRENCY AND LOCK CONFLICTS
Levels of locking in Oracle Methods used to acquire locks Data concurrency Possible causes of contention DML locks Prevent locking problems Detect lock contention Resolve conflicts
UNDO MANAGEMENT
Undo data overview Monitor and administer undo Configure undo retention Switch undo tablespaces Specify the retention period Guarantee undo retention Retention period for flashback queries View undo space information Use the undo advisor Size the undo tablespace Alter an undo tablespace to a fixed size
PROACTIVE DATABASE MAINTENANCE
Database Maintenance View the alert log The Automatic Workload Repository Statistic levels The Automatic Database Diagnostic Monitoring Monitor an Oracle database Use the Advisors
PERFORMANCE MANAGEMENT
Tuning information sources Performance monitoring Tuning activities Performance planning Instance tuning Performance tuning methodology Performance tuning data Monitoring performance Managing memory
MOVING DATA
Create directory objects Data Pump architecture Data Pump data dictionary views Use Data Pump to export data Use Data Pump to import data Overview of SQL Loader Command line parameters
RESOURCE MANAGER
Overview of the Database Resource Manager Use the Resource Manager Create Resource Plans The default maintenance resource manager plan Create Resource Plan Directives Allocate resources for Resource Plans
MANAGE SPACE
Overview of space management Block space management within segments Segment types Allocate extents Allocate space Row chaining and migration
ORACLE SUPPORT
The Enterprise Manager Support Workbench Register for security updates Work with Oracle Support My Oracle Support integration Log Service Requests Manage patches
Other Related Courses:
Live Informatica Data Quality Training
IBM DataStage Training
ETL Testing Training
Microsoft .Net Training
Datascience Training
Python Training

Oracle DBA Training Reviews
IQ Stream Technologies
Rated

5

/5 based on

20

reviews