Hibernate Training in Bangalore
IQ Stream Technologies is one of the top Hibernate Java training institutes in Bangalore with highly experienced and skilled trainers. IQ Stream Technologies Bangalore also offers placement assistance for students who enrolled in Advanced Hibernate Java Training Courses - Hibernate Java is the most popular object-relational mapping framework for Java environments. We offer basic to advanced Hibernate Java classes, Hibernate Frameworks, Hibernate Configuration and Architecture learning experiences and tools for better learning, understanding and experience. We also offer top quality Hibernate training classes in Bangalore BTM with highly experienced and trained tutors. Our Hibernate Training provides in-depth concepts of Hibernate Framework with simplified examples and real time projects. Hibernate framework simplifies the development of java application to interact with the database. Hibernate is an open source, lightweight, ORM (Object Relational Mapping) tool. Hibernate ORM (Hibernate in short) is an object-relational mapping tool for the Java programming language.
Hibernate Training Institute Bangalore BTM
Learn Java's most popular object-relational mapping framework - Become and Expert in Hibernate Java Application Development with IQ Stream Technologies' advanced Hibernate ORM tool learning programmes and online courses. Main highlights of our Core Hibernate, Hibernate Frameworks, Hibernate Architecture, map Java classes and object associations training courses in Bangalore (BTM Layout) include Intensive Practical Training, Advanced Learning Materials & Tools, Friendly Classrooms etc. IQ Stream Technologies offer beginner, intermediate and advanced lessons for you to become an expert in the area.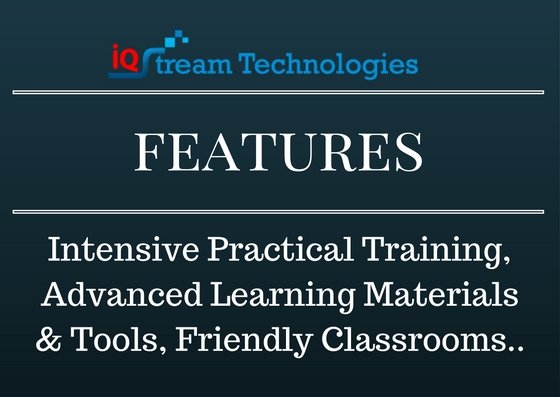 Course Overview:
| | |
| --- | --- |
| Course Name | Hibernate Java Training |
| Venue | IQ Stream Technologies |
| Official URL | Hibernate Java Training |
| Demo Classes | On Demand |
| Training Methodology: | 25% Theory & 75% Practical |
| Course Duration | 40-45 Hours |
| Class Availability | Weekdays & Weekends |
| Demo Training | Email ID : info@iqstreamtech.com |
Hibernate Java Training Location:
IQ Stream Technologies Hibernate Java Training Institute Location: BTM Layout, Bangalore
Mobile : +91 9620196773, +91 8884684156
Landline: +91 80 42073645​
Email: info@iqstreamtech.com
Address: #3, 8/2 Anugraha Complex, 1st E Cross,
20th Main, Maruti Nagar Main Road,
BTM Layout 1st Stage, Bangalore - 560029
Nearby Locations: BTM Layout, Jayanagar, JP Nagar, Koramangala, HSR Layout, Bommanahalli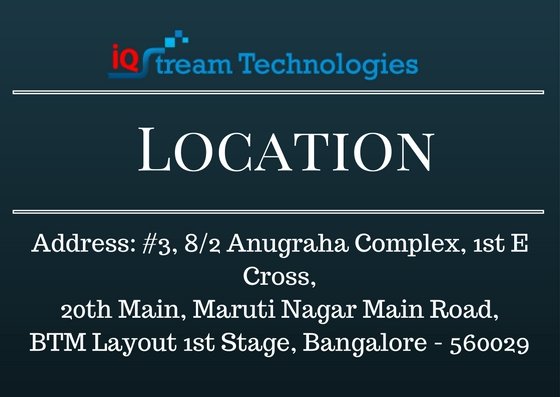 Highlights of Our Hibernate Training in Bangalore
- Intensive Practical Training
- Advanced Learning Materials & Tools
- Friendly Classrooms
- Practical Guidance
- Advanced Lab Facility
- Placement Oriented
- Expert and Experienced Trainers
Other Related Courses:
Hadoop Developer Training
Datastage Training
Javascript Training
Spring Training
Weblogic Training
Datascience Training
Python Training
Advantages of Hibernate Framework
Opensource and Lightweight
Fast performance
Database Independent query: HQL (Hibernate Query Language)
Automatic table creation
Simplifies complex join
Provides query statistics and database status
Hibernate Java Training Syllabus: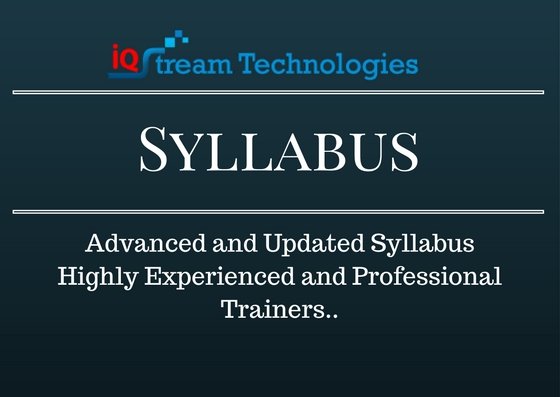 Introduction to Hibernate
Issues with Persistence layers and Object-Relational Mapping (ORM)
Hibernate Overview and Benefits
Hibernate architecture overview
POJO (Plain Old Java Object) Based Mapping
Getting started with Hibernate quickly
Overview of the Hibernate distribution
Configuring Hibernate
hibernate.cfg.xml file
SessionFactory configuration
Connection properties, Database dialect
Configuration class, Session Interface
"Hello World" Program for Hibernate
Mapping a Class
Persistent Entity Class, Hibernate Mapping
File, Mapping the Entity Class
Primary keys: Id property, Generated Id
Hibernate Type System
Working with sessions and Persistent Objects
Logging - log4j Overview and configuration for Hibernate
Querying
Inserting and Updating Entities
HQL - Hibernate Query Language Overview
The Query Interface
Creating and working with queries
Named Queries, Projection Queries, Aggregate Queries
The Persistence Lifecycle
Transaction Overview and Transactions in Hibernate
Hibernate Transaction API (in Managed and Non-managed Environments)
The lifecycle of managed objects
Persistent, transient, and detached objects
The Persistence (Session) Context (Lifespan, Relation to Managed Objects,
Propagation)
Contextual Sessions
Synchronization to the Database
The Session as cache
Optimistic Locking / Versioning
Detached Objects and Optimistic Locking
Versioning overview and Using Versioning
Locking Objects
Relationships
Object Relationship Overview
Mapping Collections of Value Objects
Entity Relationships: 1-N, N-1, N-N, 1-1
Mapping Entity Relationships
Uni and Bi-directional Relationships
The Relationship "inverse"
Cascading Over Relationships
Queries Across Relationships (Lazy and Eager)
Inheritance Mapping
Entity Inheritance with Hibernate
Table-per-class mapping
Table per Subclass mapping
Table per Concrete Class mapping
Additional Querying Capabilities
Projection Queries, Aggregate queries
Bulk updates and deletes
Native SQL Queries
Query Filters
The Criteria API
Overview of the Criteria API
Working Querying with the Criteria API
Query by Example
Hibernate and Java Persistence / EJB 3
Overview of Java Persistence / EJB 3
Relationship between Java Persistence and Hibernate
Overview of Annotations
Mapping Entities with Hibernate Annotations
The EntityManager, Persistence Context and Persistence Unit
Working with Transactions - EntityTransaction, Managed, and Unmanaged Environments
Inserts and Updates
JPQL - Java Persistence Query Language
Versioning
Relationships
Advanced Topics
Components and Multi-Table Mapping
equals() and hashCode()
Caching and Efficiency
Design Considerations
HB Introduction open link
HB Architecture
Understanding First HB application
Hibernate in IDE
HB in Eclipse
HB in MyEclipse
Hibernate Example
HB with annotation
HB Web application
HB Generator classes
HB Dialects
Hibernate Log4j
HB with Log4j
1HB with Log4j 2
Inheritance Mapping
Inheritance Mapping
Table Per Hierarchy
TPH using Annotation
Table Per Concrete
TPC using Annotation
Table Per Subclass
TPS using Annotation
Collection Mapping
Collection Mapping
Mapping List
One-to-many by List
OTM Annotation
Mapping Bag
One-to-many by Bag
Mapping Set
One-to-many by Set
Mapping Map
Many-to-many by Map
BidirectionalLazy Collection
Component Mapping
Component Mapping
Association Mapping
One-to-one 1One-to-one 2
Tx Management
Tx Management
HQL
HQL
HCQL
HCQL
Named Query
Named Query
Hibernate Caching
Hibernate Caching
Second Level Cache
Second Level Cache
Integration
Hibernate and StrutsHibernate and Spring
Hibernate Interview
Interview Questions

Hibernate Training Reviews
IQ Stream Technologies
Rated

5

/5 based on

20

reviews