Best AWS Training in Bangalore
Bangalore, Delhi, Mumbai, and Chennai
IQ Stream Technologies is one of the top AWS Training institutes in Bangalore with highly experienced and skilled trainers. IQ Stream Technologies Bangalore also offers placement assistance for students who enrolled in Advanced AWS (Amazon Web Services) Training Courses. We offer advanced Amazon Web Services training and advanced tools for better learning, understanding and experience. IQ Stream Technologies also offering AWS (Amazon Web Services) online training with training videos.

Marathahalli, Hebbal, KR Puram, Whitefield
Expert AWS Training Institute
Become an Expert in
AWS (Amazon Web Services)
with IQ Stream Technologies' advanced
AWS
learning programmes.
IQ Stream Technologies

AWS

Training Institute Location: BTM Layout, Bangalore
Also in: Marathahalli, Hebbal, KR Puram, Whitefield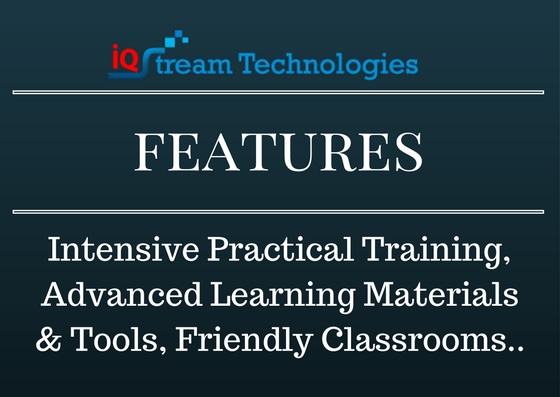 5 Star Reviews & Ratings
Reviewed By: Tharani Dharan
Reviewed Date: March, 2018
I took Fusion HCM training at IQ Stream Technologies.They have good teaching staff like Mr.Sachin and Bhaskar. The management is very professional and helpful, Affordable fees and quality courses offered.
Reviewed By: Zaki
Reviewed Date: March, 2018
I attended the Oracle Cloud Fusion session in IQ Stream Technologies. Sachin is the Trainer and the Training was good. The trainer explained the fundamental concepts very clearly and showed the roadmap of how to independently explore deeper into details.
Reviewed By: Naresh Bogavaram
Reviewed Date: March, 2018
The best thing i like at IQ stream is the personalized care that the trainers take to make me understand concepts well. The experienced trainers make it easy to learn.
Nearby Locations: BTM Layout, Jayanagar, JP Nagar, Koramangala, HSR Layout, Bommanahalli
Introduction to Cloud Computing
Introduction to cloud computing world
History
Cloud business models
Public, Private and Hybrid Cloud Models
Advantages of
Cloud Computing
AWS regions and Availability Zones
Tools to access AWS
Low level building blocks
High level building blocks
Overview of the console
EC2 (Elastic Compute Cloud)
Introduction of EC2
Create Keys
EC2 Family and type of Instances
Launch EC2 Instance (Windows and Linux)
Connect to EC2 instances using putty and RDP
Security Groups (Add/Remove Rules)
EBS Volumes (Create, Attach, Modify, Detach, Delete)
Snapshots (Create, Restore, Delete)
Amazon Machine Image (Create, Launch, Share, Copy, Deregister)
AWS command line tools
Using IAM role in EC2
Using User data scripts to bootstrap the EC2 Instance
EC2 Instance Metadata
Placement Groups
Load Balancers (Classic, Application and Network Load balancers)
Auto scaling (Launch Configuration and Auto Scaling group)
Auto-Scaling Groups
Auto-scaling Overview
Create launch configuration
Creating Auto-Scaling groups and policies
Relational Database Services (RDS)
RDS introduction
Creating RDS instance from AWS console
Parameters and options group
Setup Multi-AZ RDS
Creating snapshots for backup and restore point in time.
Creating security groups to control access to instances
Other Related Courses:
Selenium WebDriver Training
Manual Software Testing
Java Developer Training
Advanced Java Development
Spring Java Developer
Elastic Load Balancer (ELB)
ELB Introduction
Creating ELB
Add instances to ELB
Configuring listen ports, health check and protocols
Configuring sticky session
Setting x-forward-for
Configuring connection time-out
Installing SSL certificates for HTTPS listeners
Simple Storage Services (S3) & Glacier
S3 Overview
Create S3 Buckets
Setup permission on S3 buckets
S3 Bucket policies
Enable static website
Enable Version Control
Enable logging
Enable Life Cycle Management
Enable Cross region replication
Enable Transfer Acceleration
S3 Security and encryption
Introduction to Glacier
Simple Email Service (SES), Simple Notification Service (SNS) & CloudWatch
Overview of SES and SNS
Subscribe to received notifications
Sending alerts using SNS
Overview of CloudWatch monitoring service
Monitoring instance performance metrics
Configure alerts for instance metrics and billing
Identity Access Management
IAM introduction
Create Users
Create Groups
Create Roles
Create Policies
Assign permissions to users and groups
Enable multifactor Authentication of users
Generate Access key and secret access keys
Identity Federations using SAML and open connect
IAM account settings
KMS (Key Management Service)
Create Encryption Keys
Add Administrator of the Keys
Add Users of the keys
Rotate and delete the keys
STS (Security Token Service)
STS Overview and Concepts
STS key terms
STS exam must know
Import Export Service
Import Export Disk
Import Export Snowball
Use Cases
Storage Gateway Service
Gateway Stored Volumes
Gateway Cached Volumes
Gateway Virtual Tape Library
VPC
Virtual Private Cloud(VPC)
Public and Private Subnet
NAT Gateway
LAB
AWS CLI
Overview to AWS CLI
Install and configure AWS CLI
Creating and managing instances from CLI
Using AWS CLI to automate tasks