Advanced Java Training in Bangalore
IQ Stream Technologies is one of the top Advanced Java Programming training institutes in Bangalore with highly experienced and skilled trainers. IQ Stream Technologies Bangalore BTM also offers placement assistance for students who enrolled in Advanced Java Training Courses. We offer advanced Java classes, delegation event model, exception handling learning experiences and tools for better learning, excellent classroom ambience, understanding and experience. We follow the most advanced and updated syllabus for Advanced Java Training in Bangalore BTM.
Advanced Java Training Institute Bangalore BTM
Become and Expert in Advanced Java, JDBC, JDBC SQL Programming with IQ Stream Technologies' Advanced Java learning programmes. Main highlights of our Advanced Java Programming, Java Server Technologies, Java Server Pages (JSP) Training in Bangalore (BTM Layout) include Intensive Practical Training, Advanced Learning Materials & Tools, Friendly Classrooms etc. IQ Stream Technologies offer beginner, intermediate and advanced lessons for you to become an expert in the area.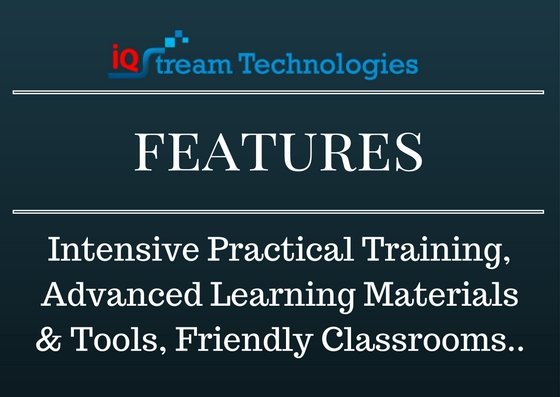 Course Overview:
| | |
| --- | --- |
| Course Name | Advanced Java Training |
| Venue | IQ Stream Technologies |
| Official URL | Advanced Java Training |
| Demo Classes | On Demand |
| Training Methodology: | 25% Theory & 75% Practical |
| Course Duration | 40-45 Hours |
| Class Availability | Weekdays & Weekends |
| Demo Training | Email ID : info@iqstreamtech.com |
Advanced Java Training Location:
IQ Stream Technologies Advanced Java Training Institute Location: BTM Layout, Bangalore
Mobile : +91 9620196773, +91 8884684156
Landline: +91 80 42073645​
Email: info@iqstreamtech.com
Address: #3, 8/2 Anugraha Complex, 1st E Cross,
20th Main, Maruti Nagar Main Road,
BTM Layout 1st Stage, Bangalore - 560029
Nearby Locations: BTM Layout, Jayanagar, JP Nagar, Koramangala, HSR Layout, Bommanahalli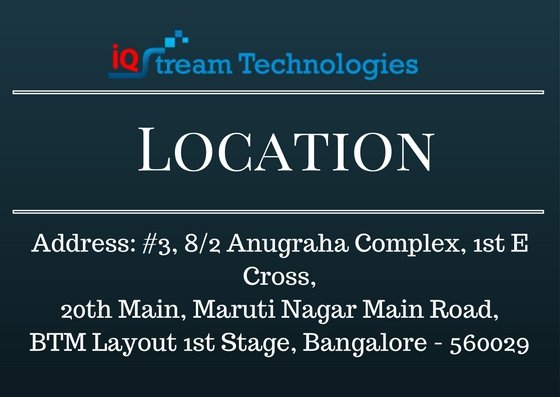 Highlights of Our Advanced Java Training in Bangalore
- Intensive Practical Training
- Advanced Learning Materials & Tools
- Friendly Classrooms
- Practical Guidance
- Advanced Lab Facility
- Placement Oriented
- Expert and Experienced Trainers
Other Related Courses:
iOS Training
Android Training
Excel Training
SQL Training
PLSQL Training
Advanced Java Training Modules: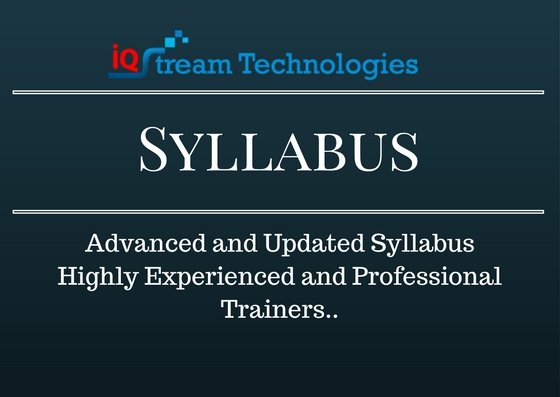 Introduction to JDBC
The JDBC Connectivity Model
Database Programming:
Connecting to the Database:
Creating a SQL Query:
Getting the Results:
Updating Database Data:
JDBC SQL Programming:
Error Checking and the SQLException Class
The SQLWarning Class
JDBC Driver Types:
ResultSetMetaData:
Using a Prepared Statement:
Parameterized Statements
Stored Procedures:
Transaction Management
J2EE Syllabus
Advance JDBC Programming:
Overview of Database Driver Architecture
Introduction to JDBC Standard Extension API (javax.sql)
Connection Pooling
JDBC Programming with ORACLE, MYSQL, etc.
Batch Processing
Working with Multiple Databases
Introduction to J2EE
J2EE Overview
Why J2EE?
J2EE Architecture
J2EE APIs
J2EE Containers
Java Server Technologies
Servlet
Web Application Basics.
Architecture and challenges of Web Application.
Introduction to servlet
Servlet life cycle
Developing and Deploying Servlets
Exploring Deployment Descriptor (web.xml).
Handling Request and Response
Initializing a Servlet
Accessing Database
Servlet Chaining
Session Tracking & Management
Dealing with cookies
Transferring Request
Accessing Web Context
Passing INIT and CONTEXT Parameter
Sharing information using scope object
Controlling concurrent access
User Authentication
Filtering Request and Response
Programming Filter
Filter Mapping
Servlet Listeners
Java Server Pages Technology (JSP)
Basic JSP Architecture
Life Cycle of JSP (Translation, compilation)
JSP Tags and Expressions
Role of JSP in MVC-2
JSP with Database
JSP Implicit Objects
Tag Libraries
JSP Expression Language (EL)
Using Custom Tag
JSP Capabilities:
Exception Handling
Session Management
Directives
Advanced Java Training Reviews
IQ Stream Technologies
Rated

5

/5 based on

20

reviews